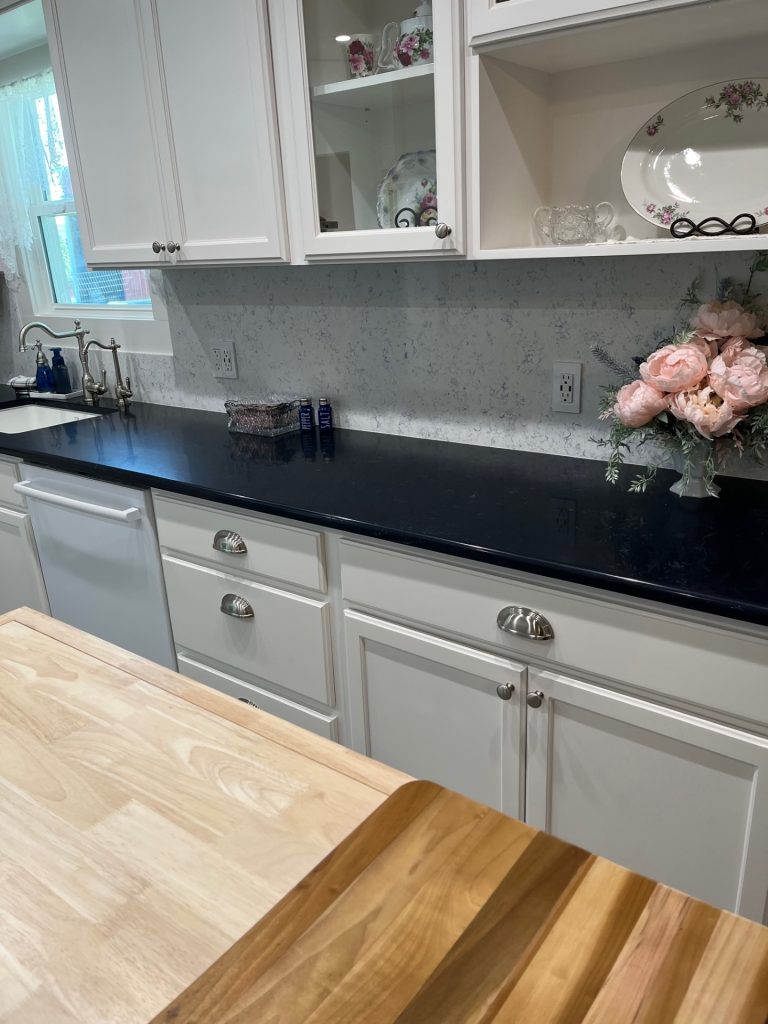 If you read my last blog, you know we just finished a big kitchen remodel project. We are thrilled with the results.
Today, I thought it might be helpful (and fun) to share links to some of my favorite things in the kitchen.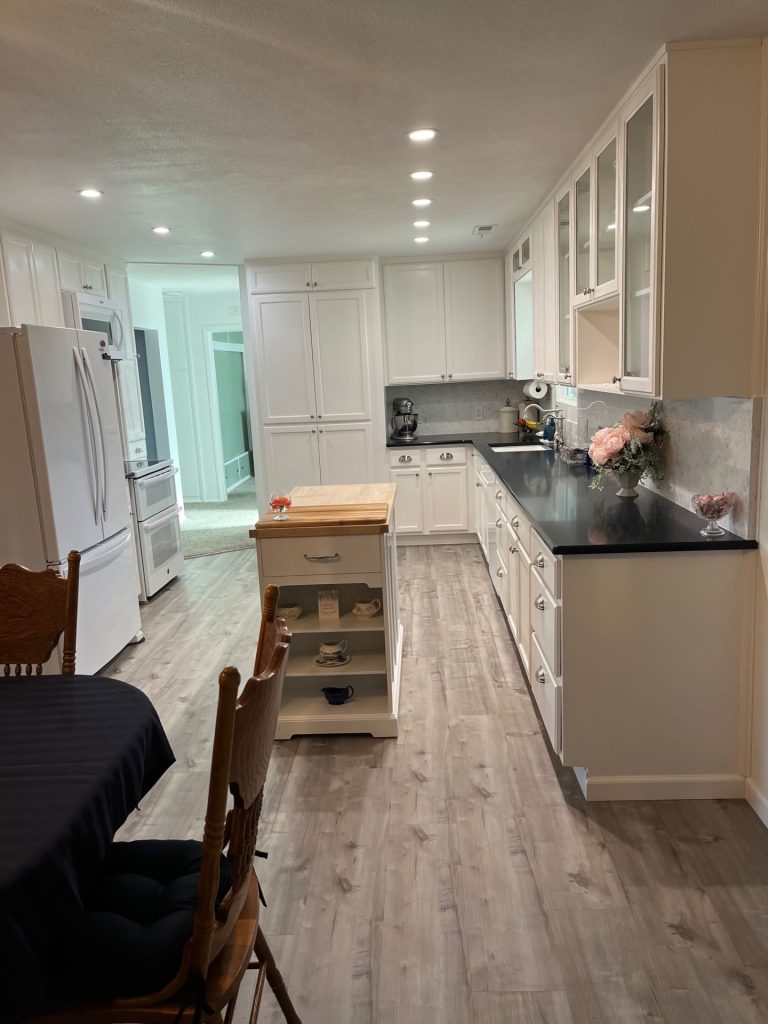 The flooring is amazing. We'd picked out some flooring we liked, then discovered from the sample I ordered that it scratched really easily. So, we headed to the local flooring shop where we bought our carpet a few years ago. We mentioned our concerns about scratching to the sales guy who took a utility knife and embedded it in the floor, then showed us after he pulled it out how the floor was self-healing.
Sold!
The brand is Rhino and the pattern is Kootenay. Since I've mopped the floor approximately 83 times in the last week, I can say it is easy to clean and it looks really nice.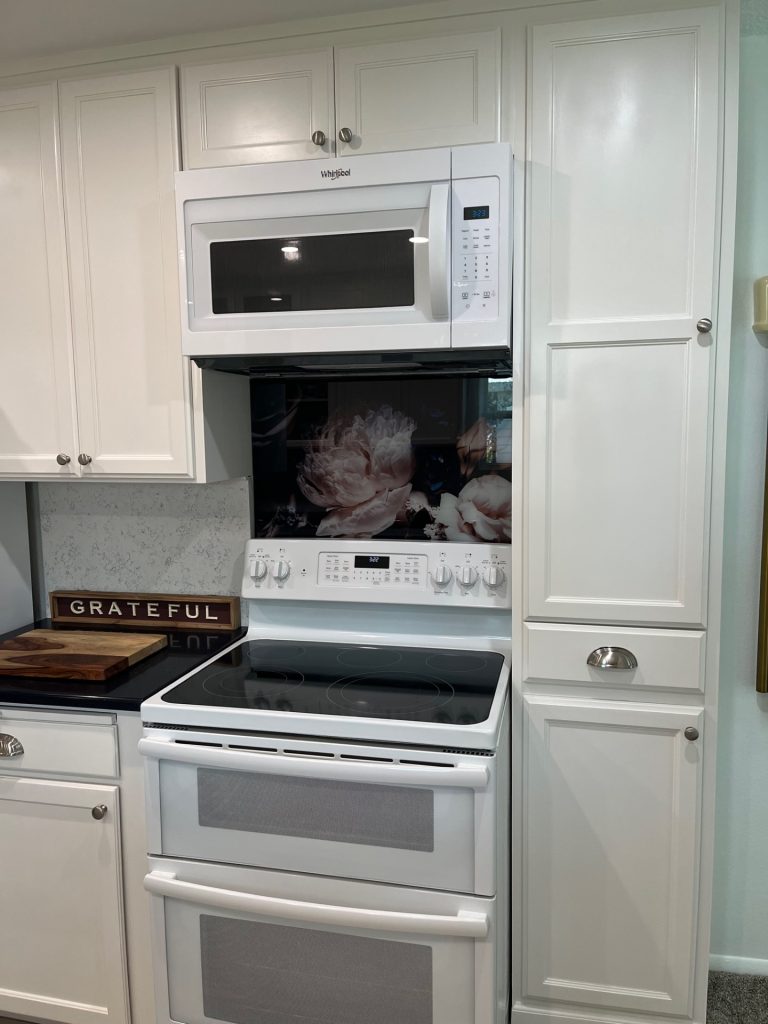 The tall, skinny pantry that fills the space where the hidden chimney once stood now holds all my baking supplies, cakes pans, etc. I love it!
And I also love the beautiful backsplash behind the stove. Once we'd decided on our countertops and backsplash, I started reading about caring for quartz, and realized it shouldn't get a lot of heat. So, I started researching options to place behind the stove. Several websites mentioned tempered glass.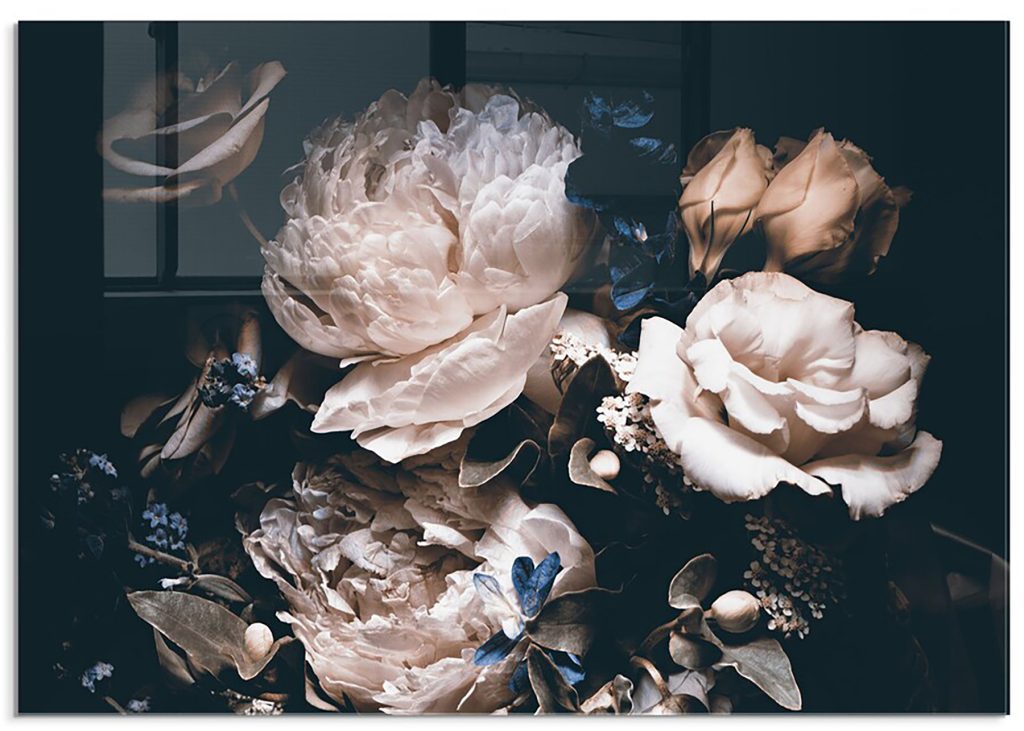 I happened upon a seller on Etsy who creates the most beautiful tempered glass pieces at affordable prices. It ships from Turkey, but the way it is packaged is impressive! I chose this pattern because – well, roses! – but also because of the hints of navy blue in it that pull the color up from the countertop.
Our handyman told me to call a local appliance repair guy to get his recommendation for the best dishwasher and over-the-stove microwave. He suggested Whirlpool or Maytag for the microwave, so that we ordered a Whirlpool. So far, it is great! Everyone asked us if we were sure we wanted it up that high, but a girl has to show off her pretty backsplash behind the stove. It's a good thing we are both tall! As for the dishwasher, he recommended a Bosch. Gosh, it is so quiet, not even the plumber could hear it running!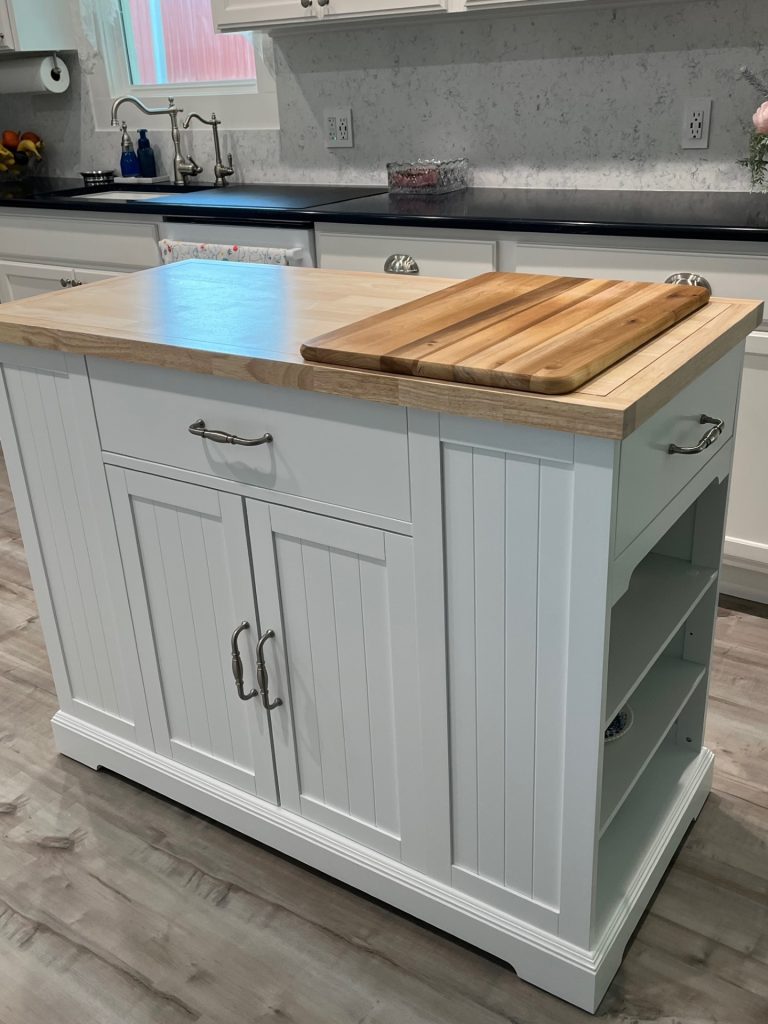 We thought about building our own kitchen island to get just what we wanted, or hiring the cabinet maker to build it for us. Then we found one on Amazon we really liked. You can't see them, but there are wheels underneath, so we can move the island wherever we want (which has already proven to be quite handy). There are two small drawers and one large center drawer (which holds our everyday cutlery and knives), shelves on each end for displaying pretties, and the center cabinet which holds the bowls and casserole dishes I use frequently.  The end drawers aren't very deep, but one of them was the perfect size to hold our new knife block. The top is rubberwood and can be used as a cutting board, but we wanted to keep it looking nice, so one of the cutting boards I already had fit perfectly on one end. It took us about 2 1/2 hours to assemble it, but it wasn't hard to do. We did purchase pulls that coordinated with the other pulls and knobs in the kitchen.
Speaking of pulls, I think I ordered more than a dozen samples to find one we both really liked, then it was out of stock what seemed like overnight. After hours (days!) of searching, I finally tracked them down at D. Lawless Hardware in Illinois.  We found knobs that looked good with the pulls at Home Depot. 
I had a Kohler cast iron sink that we installed 20-some years ago and it was in great condition (even with our hard water!). But I wanted an undermount sink, and I was also leaning toward a single bowl instead of divided. So we got this Kohler cast iron sink at Home Depot.  Funny story – I told my dad he could have our old sink because he's been wanting an updated one in his kitchen. I forgot to have CC help me load it before he left the last time I went down to visit Dad, so there I was stuck with a sink that felt like it weighed half a ton, trying to figure out how to load it. With a lot of perseverance and a car jack, I managed to get it loaded in my vehicle without
a). maiming myself
b). breaking the sink
c). damaging the vehicle
It was a win!
I love Victorian-esque stuff and when I saw some "Victorian" faucets in a high-end store, I knew that was the profile I wanted.
I found this faucet on Amazon made by Gerber.  I love it so much. Next to it is an instant hot faucet, also the same profile, made by Westbrass, also on Amazon. Once the plumber figured out how to install it, he was quite fascinated with it.
I was at a Home Goods store and found the soap bottle that also has the same Victorian look to it. And the little tray the two soap bottles are sitting in is awesome. I ordered a small one for the soaps, then two large ones for the cabinet where I keep my oils and vinegars to set the bottles in so they don't make accidental messes on the shelves. The trays are a hard silicone, but are easy to wash and are just what I wanted to keep things neat and tidy! You can also find the trays on Amazon.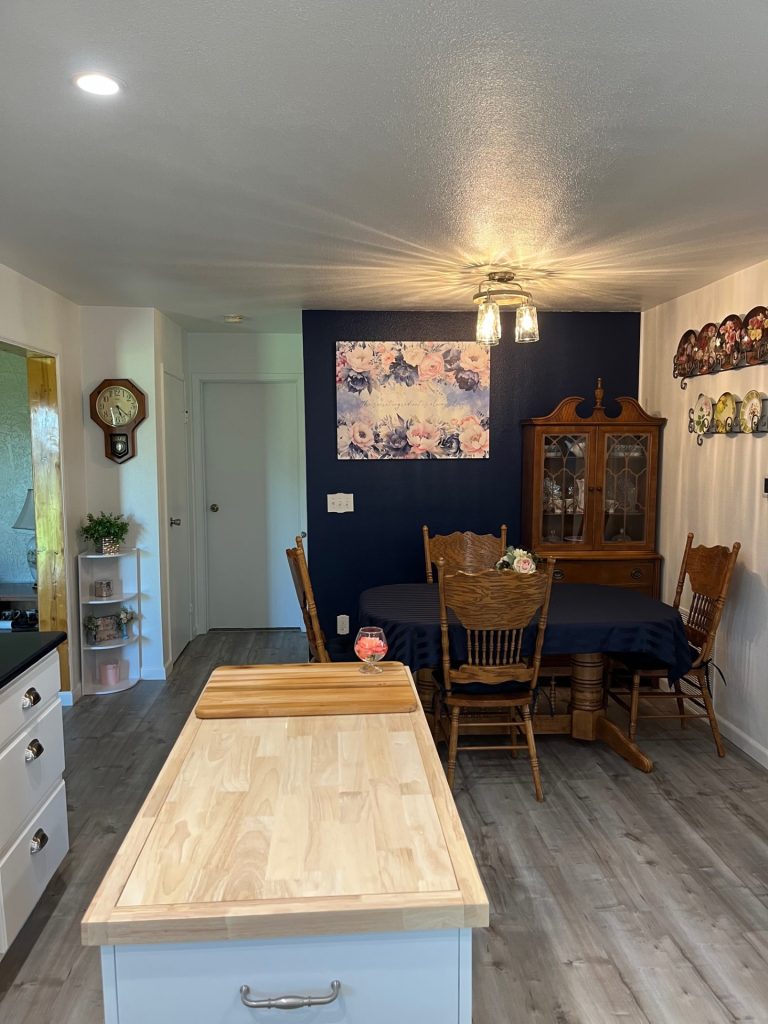 When we decided on the dark blue counters, CC and discussed painting one wall a deep navy blue. Although worried it might make the room too dark, we (mostly me, since I was the one doing the painting) decided to give it a try. If we hated it, I could always paint over it. Turns out, we are so, so pleased with the way it looks.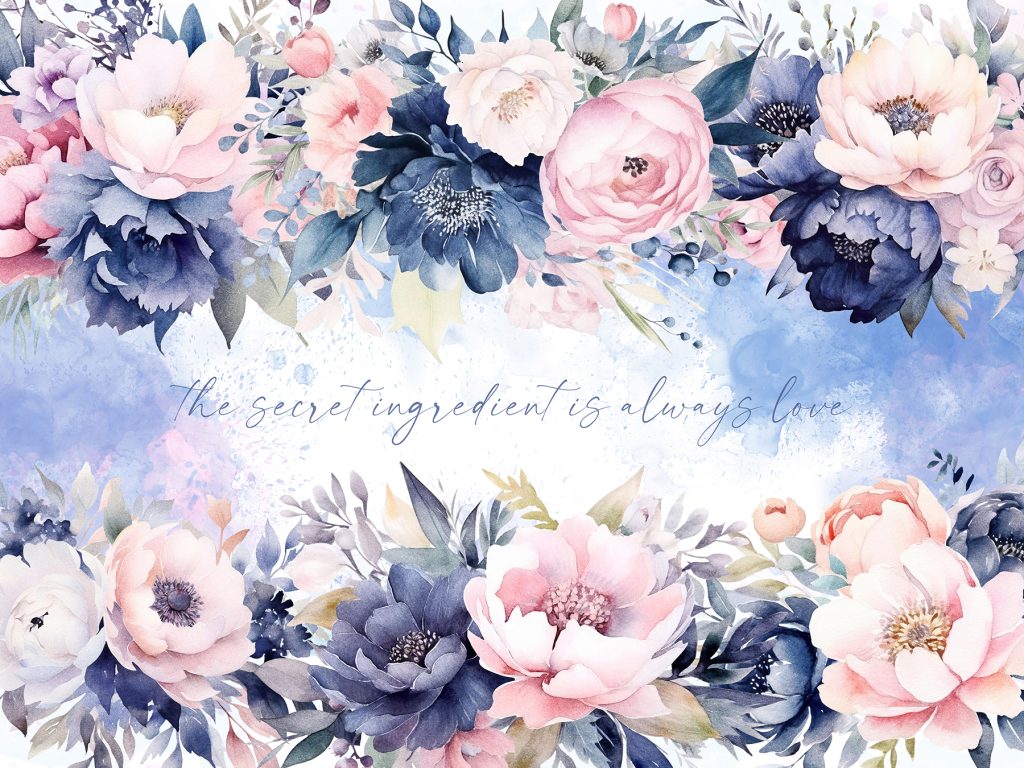 I had a beautiful Thomas Kinkade print that hung in the dining area, but since it was green tones, I knew I needed a new piece of art. So I designed this one and had it printed by Canvas Champ. It pulls in the colors of the kitchen and, of course, has roses! We moved the three plate racks we had in various spots onto one wall and I really like the way it looks with them together.  We needed something to put above the fridge and CC suggested designing a complementary piece.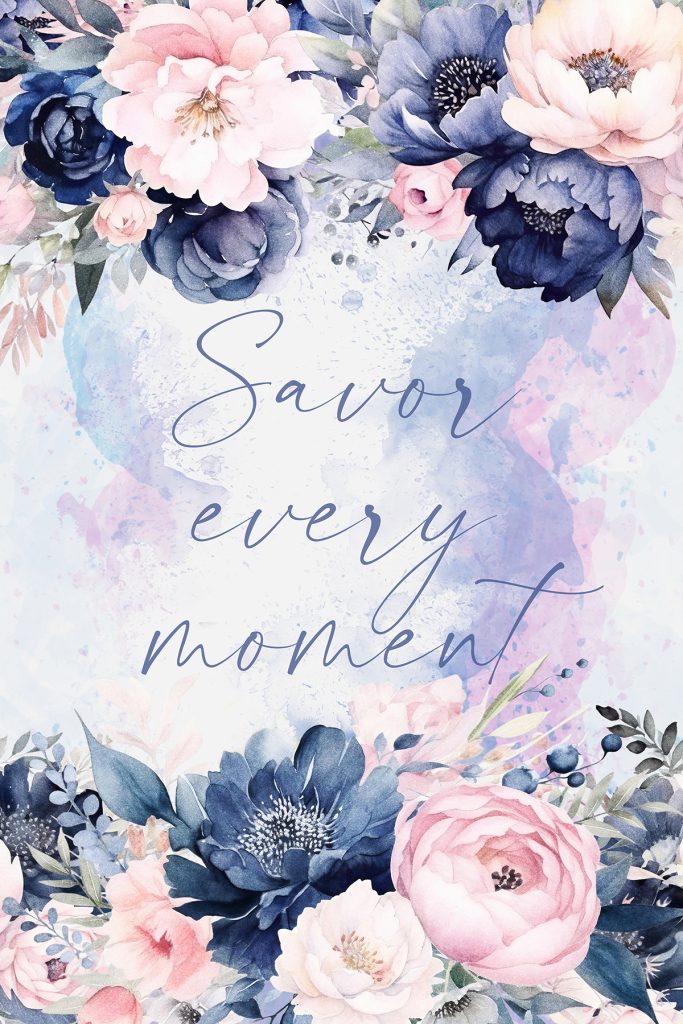 So I did!
I love how personalized these prints make our kitchen feel.
And despite all the work, I'm so, so incredibly happy with our new kitchen.
Now to get back to baking – and writing!
What's one thing you love about your kitchen?