Captain Cavedweller and I have been talking for years about remodeling our kitchen.
The handyman we hired to help us with our bathroom remodel last year gave us a bunch of nice solid oak cabinets he had from previous jobs he'd done.
All those cabinets gave us an incentive to start thinking about remodeling our kitchen sooner rather than later. By spring, we were talking about actually doing it this year, but we had no idea about the process or where to start. I called the handyman and asked if he could drop by sometime, since we weren't in a rush, and just walk us through how things would go. We had in mind we'd start the project in late summer or early autumn.
But the handyman came the next evening, which was April 21. I'd just sent Lucky Shot off to my editor that morning, which was good, because I haven't had a single spare moment to write since then!
The handyman walked us through the basics, then said he could started on the demo May 1. Like ten days away, May 1, not a year away.
So we said, "okay," and frantically began packing up everything in the kitchen. It's a good thing Walmart delivers because I can't even tell you how many rolls of bubble wrap and packing boxes I ordered and had delivered in the week that followed.
Because I'd spent a good part of the winter drooling over kitchen designs, I had some idea of what I wanted. And we had all those cabinets the handyman had given us.
But when we actually started measuring the cabinets and trying to make them all fit, it wasn't going to work. The handyman put us in touch with a cabinet maker who came the morning we started our demo and agreed to make all the upper cabinets and a skinny pantry to take the place of where a chimney had been hidden in the wall. We ordered unfinished base cabinets from Home Depot, and used a large base with a cutting board and the huge pantry we got from our handyman.
The morning of the demo, we were both nervous and excited. Captain Cavedweller helped rip out our old cabinets and I even helped remove the old floor.
I should insert here that our kitchen was a homey, welcoming, mostly functional place, but there was so much wasted space in it that we thought could be better utilized. You can see the spot where I had a little china hutch where a small fridge once stood. The wall to the right of the stove, with the tiny base cabinet is where the chimney was hiding. And the soffits were just dead space.
I had this hutch that helped give more space, and a china hutch and buffet that belonged to my grandmas.
The cabinets, as far as we know, were original to the house, circa 1950s.
It was definitely time for an update.
The most exciting part of demo day was when Captain Cavedweller climbed up in the attic to see if he could push down the top of the chimney, which refused to budge. I wish I'd had enough functioning wits to video it, because it was pretty impressive. He pushed it back and forth and it came all of a sudden in a ear-deafening "whoosh" with concrete chunks and cinderblock pieces flying everywhere. Sadly, it also punched holes through the living room wall on the backside of it when it came down. One more thing to add to our fix-it list.
We discovered the bright red linoleum under our wood flooring. Oddly enough, it was in great condition. They don't make stuff to last like they used to!
There weren't as many rotten boards or disasters as I'd anticipated when we got down to bare walls.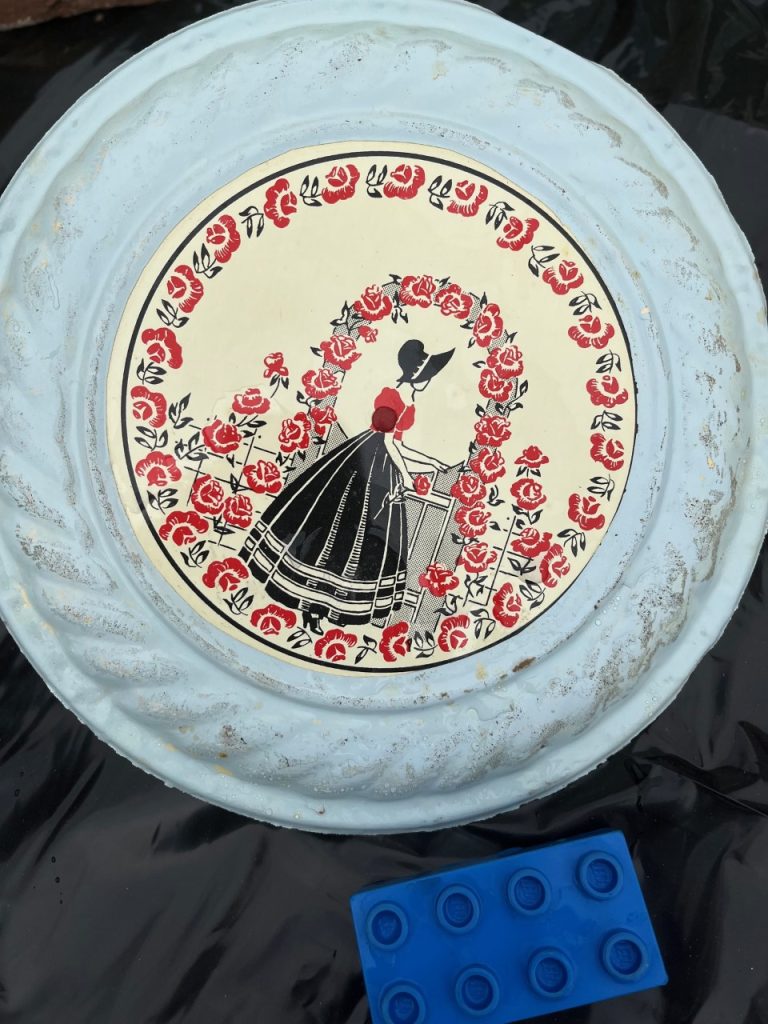 My happy find of the day was a flue cover that was still attached to the chimney! It is in great condition and I'm working on finding a special place to display it in the kitchen! (We also found one big Lego piece!)
With the handyman working on the walls, and the cabinet maker building our upper cabinets, CC and I chose our countertops and backsplash. We were thinking something in a white/gray granite, but we both zeroed in on a sample of navy blue quartz as soon as we entered our local countertop shop.
Our conversation went something like:
"I know this isn't what we were thinking," CC said.
"But I love it!" I answered.
He gave me an odd look. "So do I!"
And that is how you pick out countertops in all of five minutes.
It is hard to see in the photo, but it is this beautiful deep navy blue with veins of white and silver and flecks of varying shades of blue. It's made by Radianz Quartz and the color is Aquarius.
From putting up with fake tile, hard water, and yellowing grout, we knew we wanted a solid surface for our backsplash. It just so happened there was a piece of quartz that perfectly matched our countertop choice.
It's white with navy blue veining and made by Corian Quartz. The color is Blue Carrara.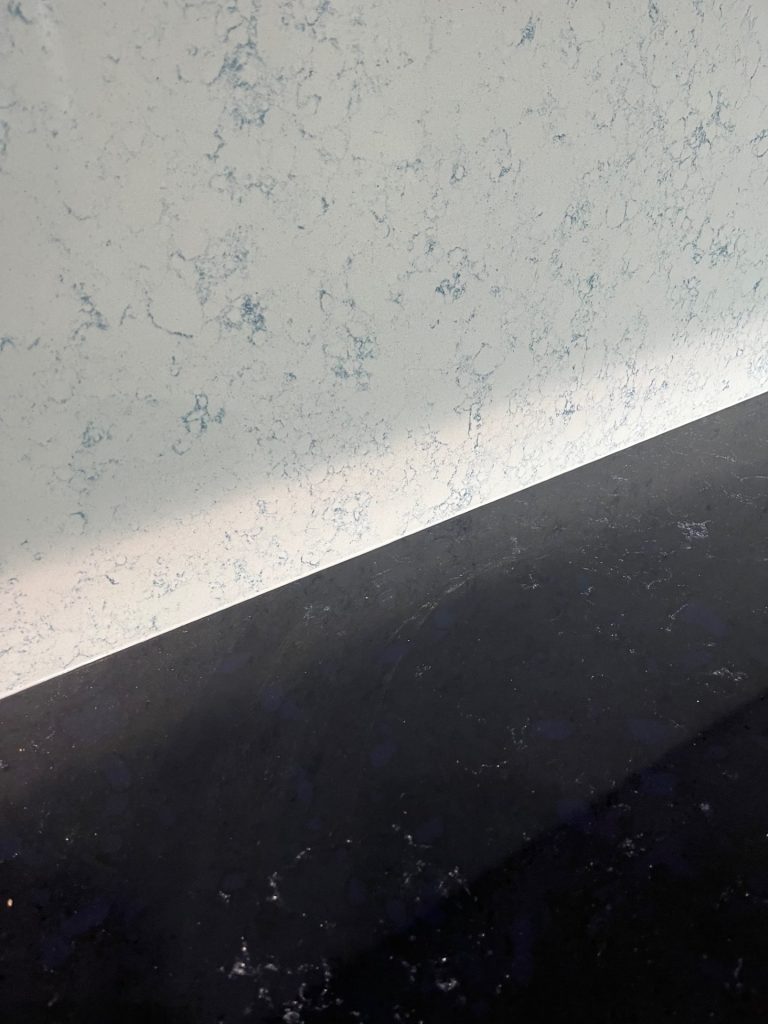 I absolutely love how they look together.
CC and I  took on the task of painting our cabinets. I knew they had to look better than "slap on a coat of primer and then paint," so I did some research online and we both took Painting With Kayla's class. Boy, was it helpful. Not only does she walk you through how to paint cabinets step-by-step, she also gives you a list of everything you need to purchase and links to where to find everything. It was incredibly helpful! It was worth every penny I spent on the class and highly recommend it if you are thinking about painting cabinets (or wood furniture in general).
Because we had so much painting to do and because he's a nice guy who took pity on two idiots who were way out of their element, our cabinet maker let us borrow his commercial paint sprayer while he was on vacation. What a lifesaver!
We set up a paint tent in the backyard and CC did the spraying while I ferried cabinets and doors back and forth to the room where we were letting them dry.
The cabinets turned out better than we imagined they would and we're pretty happy with the results.
While this project (and process) has taken up nearly every moment of my life for the past two and a half months, it really did go smoothly. Having no useable kitchen for most of that time wasn't something I'd want to do again, but we made it through (and ate a lot of takeout!).
Are you ready to see the finished kitchen?

There are so many things I love about it, from the extra storage and long counters, to how light and bright it feels.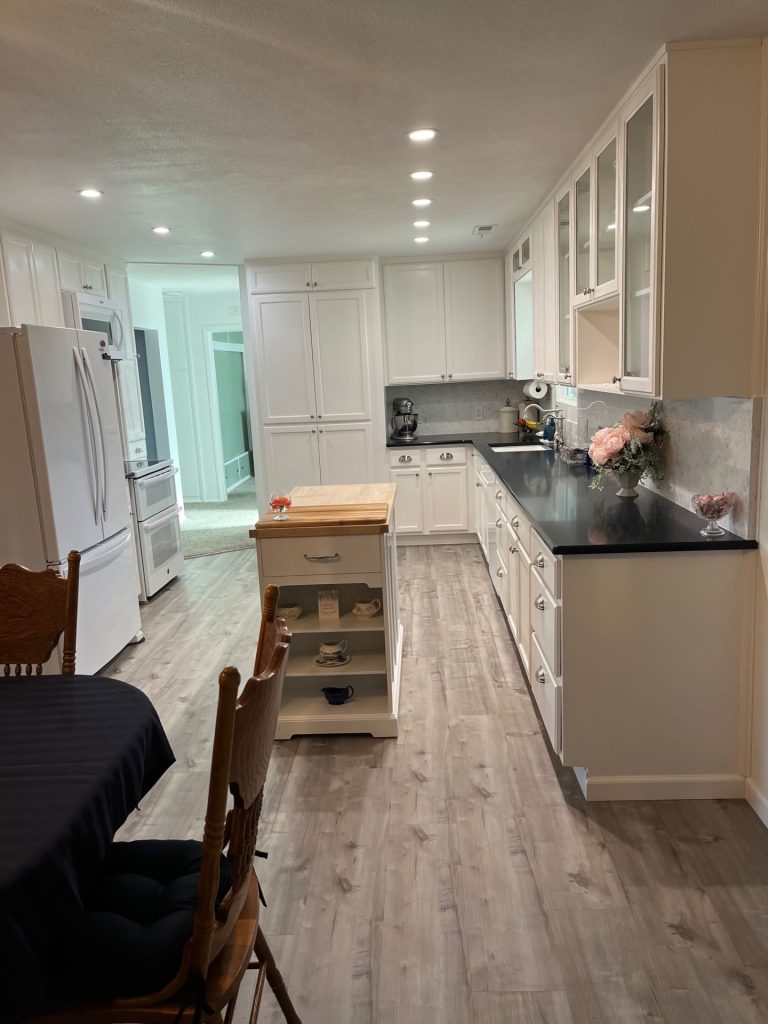 It is quite a change from the old kitchen.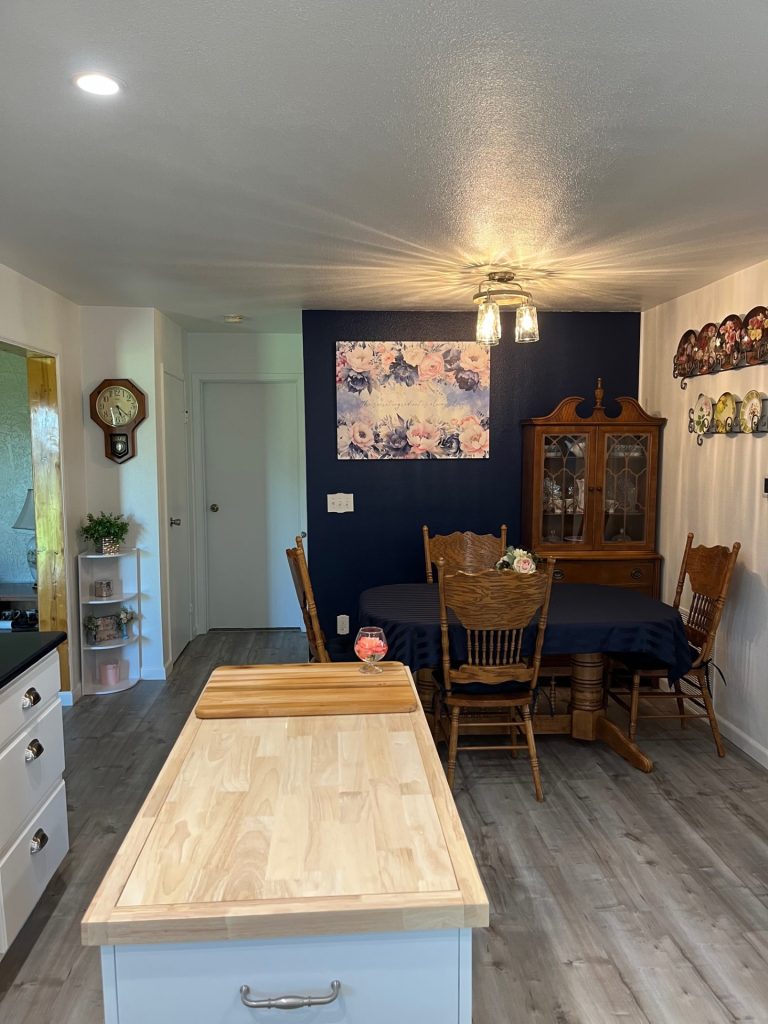 But change is good!
Check out my next post on Part 2 of the remodel. I'll be sharing links to some of my favorite things in the kitchen!