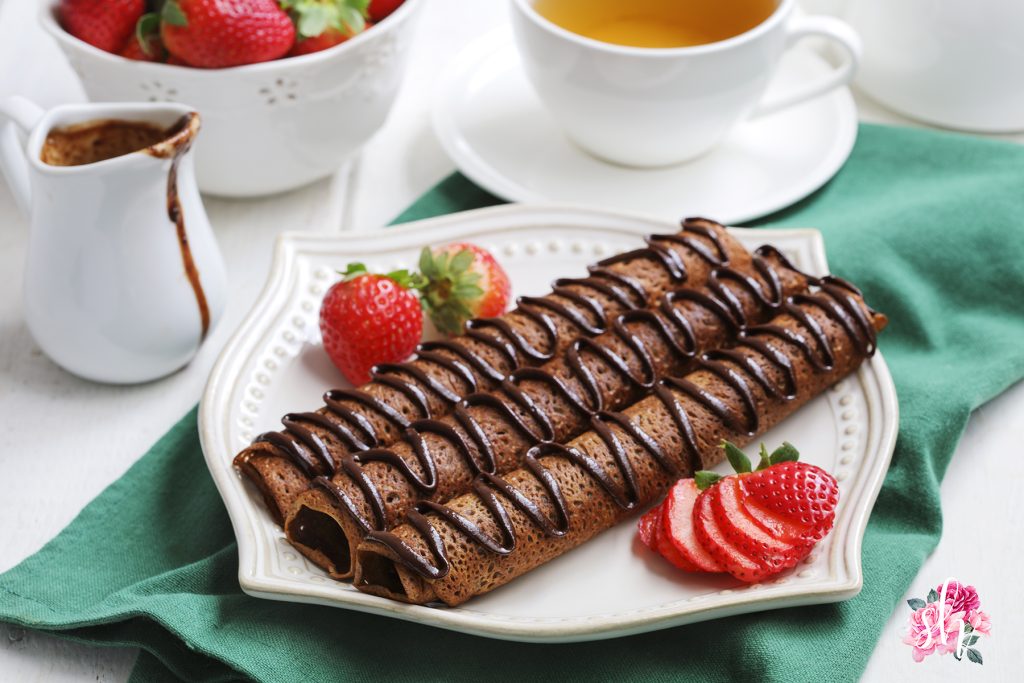 If you are looking for something special to make Mom for Mother's Day, I have two words for you – Chocolate Crepes.
These aren't hard to make, taste delicious, and if Mom loves chocolate, you'll be her favorite for a long while to come!
INGREDIENTS:
4 large eggs, at room temperature
1 1/2 cups milk
1 3/4 cups all-purpose flour
1/4 cup unsweetened cocoa powder
1/4 cup granulated sugar
1 teaspoon vanilla
8 tablespoons butter, melted
DIRECTIONS:
Whisk together flour, cocoa powder, and sugar. Add about 1/2 cup of milk into the dry ingredients and whisk to combine. Add another 1/2 cup of milk and whisk gently to create a smooth mixture. Do not over-work the mix, but make sure there are no lumps. Add eggs, butter, vanilla and remaining milk, whisking gently until batter is smooth.  Let the batter rest for 15 to 20 minutes.
If you prefer – you can add the liquid ingredients to a blender, mix until combined, then add dry ingredients, scraping down sides to make sure no dry spots remain. Then let batter rest for 15-20 minutes. The batter is easy to pour out of the blender pitcher when you're ready to cook the crepes.
Preheat crepe pan or large flat skillet.  Coat pan with oil or butter. Pour 1/4 cup of batter into pan and swirl.  Cook for about 1 minute on medium heat until the surface of the crepe looks dry, then flip and cook for another 15-30 seconds, then transfer to a plate.  Repeat with remaining batter (making sure to keep pan greased), stacking the crepes on top of each other. Fill with whatever tickles your fancy: sweetened cream cheese, fresh whipping cream and fruit, hazelnut spread, coconut filling, or peanut butter!
YIELD: 8-10 crepes