A few weeks ago, I traveled to Deadwood, South Dakota, to participate in the annual Wild Deadwood Reads event.
The event was fun and well organized, but the highlight for me was getting to spend time with my fellow Petticoats & Pistols sisters. There were eight of us there, and it was beyond amazing to meet these wonderful women.
I thought it might be fun to share my adventures as a travel log, so here goes.
DAY 1
The alarm blared at 3 a.m. to roust me out of bed to leave by 4. Thankfully, Captain Cavedweller agreed to drive me to the airport an hour away, because I'm not sure both eyeballs were open at the same time. Because I flew from a small airport to another small airport as my end destination (in Rapid City), I ended up with a three-hour layover in Minneapolis, which gave me time to get something to eat (yay to the cafe that served breakfast all day) and pick up some delicious Abdallah chocolates (some of CC's favorite candy!).
I made it to Rapid City, collected my luggage, which, by the way, when one is going to a book signing and fills their suitcase with books and things to decorate their table, the suitcase is heavy. Like 67 pounds heavy. I'm pretty strong and can lift a lot of weight, but if a kind woman hadn't stopped to help me heft the suitcase into the back of my rental SUV, I might still be standing there trying to load it.  On the way out of Rapid City (it's almost an hour's drive from there to Deadwood – where there are no big grocery stores), I stopped to grab a few things, like yogurt and fruit, and cookies to share with the PP sisters. The SUV was new and I had to get out the instruction book (thank goodness they leave those in the glove compartment) just to figure out how to turn the stupid thing off since it didn't have a key.
I was a good ten miles out of town before I figured out how to read the odometer, and get the cruise control to work. They really need a cheat sheet for dummies in rental cars!
Arrival at the hotel and check in went well, which was great because I was so tired by the time I got there. All I wanted was food, a shower, and sleep.
Thankfully, the hotel had a restaurant on site, so I went down and placed an order to go. I kid you not – it was one of the best salads I've ever eaten. Warm, spiced pears, warm grilled chicken, pecans, cheese, and a delicious dressing on a bed of spinach. I indulged in a slice of cheesecake which came with a huckleberry topping that was so, so good.
Back in my room, I discovered all the lamps (there were four of them) had been unplugged. In moving an end table to plug in a lamp, I discovered a row of dirty glasses lined up on the floor. Yuck!
Then I picked up the TV remote which was covered in what appeared to be Cheetos dust. So gross. I got out the Lysol wipes I always carry with me and it came away black with grime. Guess I didn't really need to watch TV anyway!
After washing away my day's travels, I'm ready for bed. Only, when I pull back the covers, there was no top sheet.
What?
So I flip the covers back more and discover the top sheet all bunched at the bottom of the bed and stains on the bottom sheet. Ewwww!
Since I'm in a double queen room, and since I'm beyond weary, I decide I'll just sleep in the other bed and deal with the dirty bedding tomorrow.
Only when I pulled back the covers on the second bed, it looked like someone had been munching cookies in it because there were crumbs. So many crumbs.
Normally, I'm not someone who will call the front desk and complain. Ever. But dirty sheets are where I definitely draw the line. I called the front desk and was told I would have to come get the sheets if  I wanted them.
Come again?
I'm exhausted. In my jammies. Hair damp from the shower. The last thing I want to do is go to the front desk to get sheets to make the bed that should have had clean sheets to start with.
So I get dressed and go down to the front desk (noting I am down a long hallway and it is a hike to the elevator). The person working the front desk is playing on their cell phone and I stood there, waiting, for a full minute, before I concluded she was never going to look up from her phone.
"Hi! I called about getting some clean sheets," I said, mustering as much friendliness as I could manage.
She squealed, jumped in the air, and glared at me. "You startled me," she said, then disappeared into a back room and returned with a folded sheet.
One folded sheet.
"I'll need a whole sheet set."
"It's all there," she said dismissively, resuming her seat and returning to whatever had captivated her on her cell phone.
"Thanks," I said, and returned to the elevator then trudged to my room.
Sure enough, when I unfolded the sheet, it was just the top sheet.
Back down to the front desk I went, not feeling nearly as friendly, especially when I arrived to find two front desk agents both playing on their cell phones.
Are you kidding me? One of them couldn't have brought up the sheets to my room?
When I told the girl I still needed a bottom sheet and pillow cases, she gave me a look like I was the most challenging, demanding guest she'd ever met. She marched away from the desk and returned with the sheets, handing them to me with a frown and didn't say a word to me.
Allrighty, then.
I returned upstairs, made the bed, and then couldn't sleep because I was so annoyed by the terrible customer service.
DAY 2
A few of the P&P sisters had rented a house on the far end of town. We'd agreed to converge there. I was so excited to get to meet them.
They were all just lovely.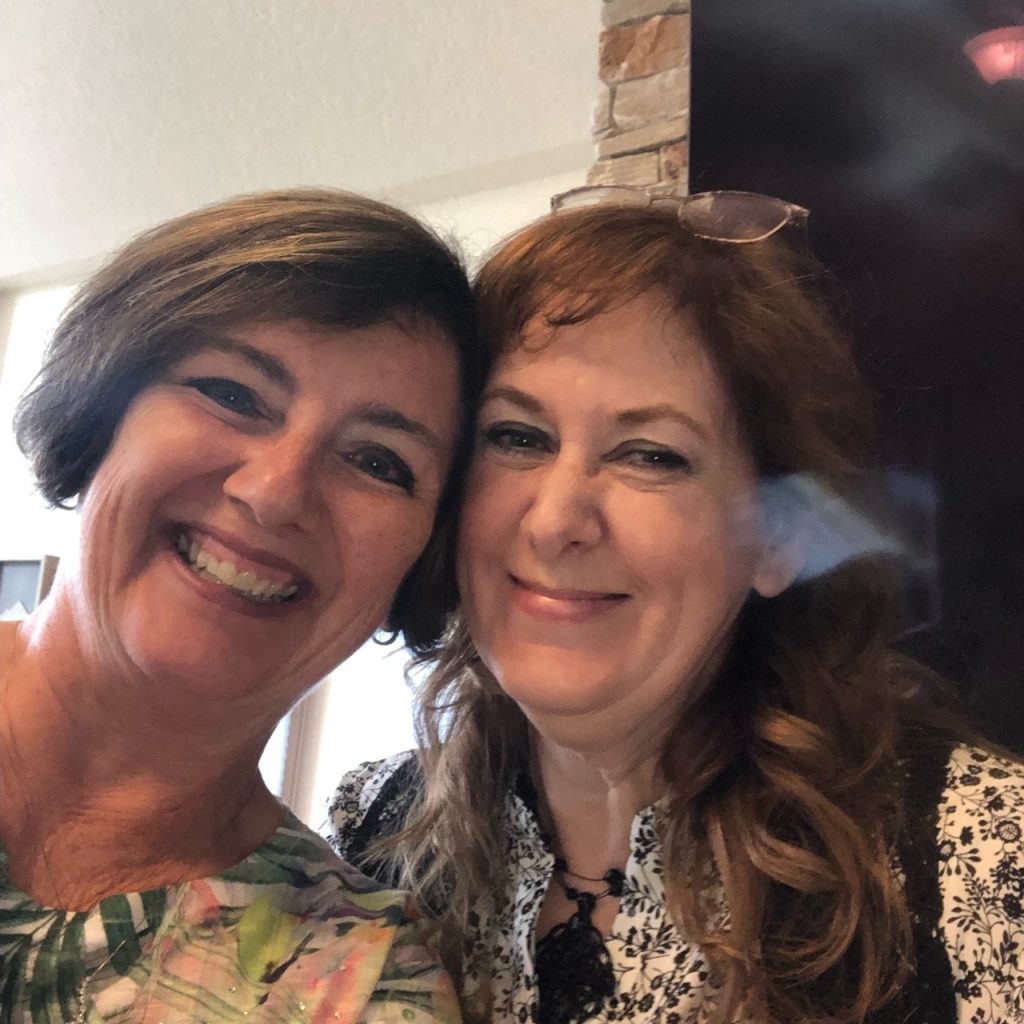 I'd spent months emailing back and forth with Pam Crooks almost daily as we worked on the Pink Pistol Sisterhood series. It was awesome to finally meet the person on the end of all those emails. Pam and I hit it off just like I hoped we would.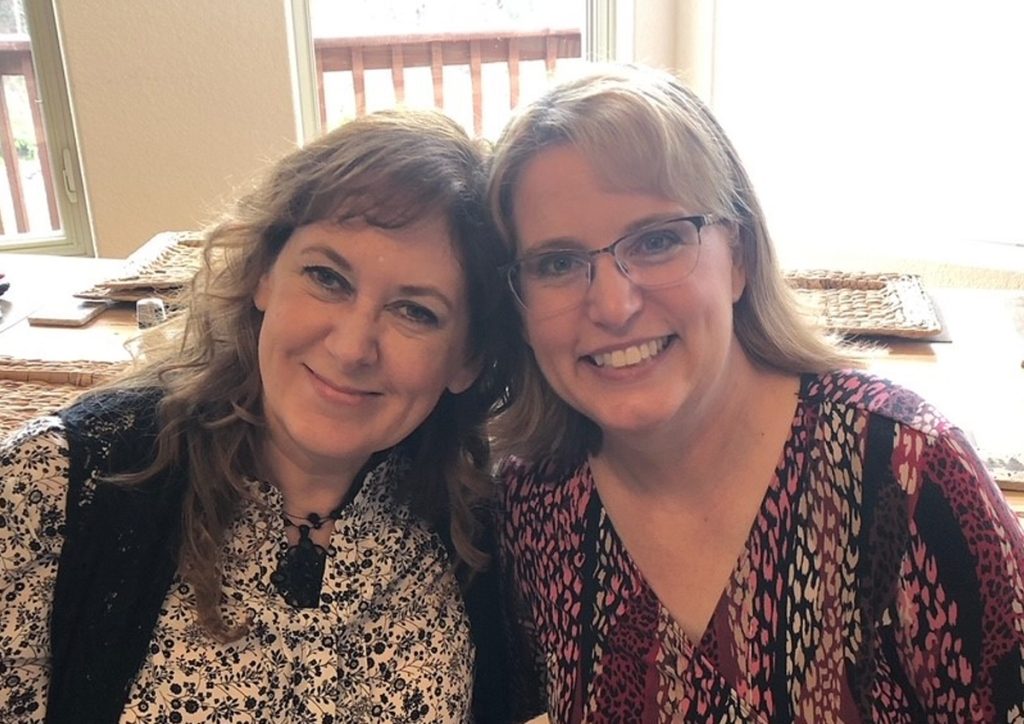 Back before I began writing, I'd discovered two authors who wove humor and love into their inspirational romance that always delivered a great read. I LOVED reading their books then, and I still do. When I found myself sitting between Karen Witemeyer and Mary Conneally, I experienced a bit of a fan girl moment. The pic above is me with Karen. Gosh, I loved meeting her so much!
The other Pink Pistol sisters were all wonderful. I am so glad I got to spend time with Winnie Griggs, Jessie Gussman, (and their sweet daughters), Julie Benson, as well as Kari Trumbo. Kari and I worked together on the Regional Romance series and I was thrilled to finally get to meet her.
After lunch (thank you, Karen for the delicious meal!), we all headed off in various directions. Winne and her daughter, Julie, Karen and her husband, and I went to the Days of 76 Museum.
One of my favorite things there was this old US Postal Service delivery wagon. The reins come in the front window and the mail man would sit on the bench and drive them. Captain Cavedweller was not impressed when I suggested it was a good way for him to deliver the mail now.
When we finished up at the museum, we ventured over to the historic Mt. Moriah Cemetery where Wild Bill Hickok and Calamity Jane are buried. When you pay the admission fee, you get a brochure with a map (which is super helpful).
The cemetery is divided into sections like "Victorian", with beautiful headstones and markers like the one shown above. There was a Chinese section, a Jewish section, a children's section, a Masonic section, a spot of Civil War veterans, and a few other "celebrities."
One of my favorite things was the overlook where you could see the whole town of Deadwood (which really isn't very big).
It was cool and starting to rain, so I wimped out and returned to my vehicle. I managed to drive a few blocks, before it became necessary to pull over and dig out the handy instruction book again because I could not get the windshield wipers to turn on.
I returned to my hotel room to find the dirty sheets still on bed 2 in my room and the dirty glasses I found on the floor still sitting on the bathroom counter where I'd moved them in hopes housekeeping would do something with them (but they did manage to throw away my water bottle!).
On my way to dinner, I noticed someone who looked like they might be helpful at the front desk and told them what had happened the previous evening. She was very kind and helpful, gave me some coupons for the restaurant and the evening manager comped one night's stay. Things appeared to  be looking up! Yay!
That evening, there was a meet and greet event. One of my sweet readers flew in to surprise me – and boy did she surprise me. Thank you, Janet, for coming all that way. It was such a joy to meet you in person! What an amazing day! It's one I'll long remember with happiness and warm fuzzies!
DAY 3
Today was a "free" day. Some of the group went to Mt. Rushmore. Others drove to other scenic landscapes. Since I had no desire to drive anywhere in the rain in a vehicle that required frequent guidance from the instruction book, I decided to look around town.
My first stop was the Tatanka Museum. Admittedly, part of the draw was Kevin Costner's connection to it. But it ended up just being a really neat place to visit.
Inspired by what he'd learned while filming Dancing With Wolves, Costner created the museum to explore the relationship between the Lakota Nation and American bison. I was fascinated by the facts shared in the museum about bison. There was a very nice gift shop (which I should have done a little shopping in before leaving). The museum had some costumes from the movie, which was fun to see. The focal point, though, is the world's third largest bronze sculpture located on a hilltop, showcasing a buffalo jump. There are 17 pieces in the sculpture, showcasing 14 bison pursued by three Lakota riders on bareback.
After leaving the museum, I drove to the Deadwood visitor's center where there was ample parking and hoofed it down to historic main street, hoping to find a few souvenirs to take home.
Here's the thing I noticed about so many of the people working in Deadwood in the tourist shops: no one smiles. No one makes eye contact. No one says, "Welcome to my store. How may I help you?"
I'm a friendly person. When I walk into a business, I generally try to make eye contact with the person working the register and smile, say hello.
Apparently, I was a bit of an oddity for Deadwood. In one store, the very unfriendly person behind the register came out from behind it and followed me around the store, scowling. Maybe I looked like I was about the rob the place. Ha! After that, I gave up on shopping and decided to explore the rest of the museums in town.
I lucked out when I went to the Historic Adams House. The tour guide, Aaron, was a fount of knowledge and humor and made the tour so, so fun.
The really cool thing about this museum is that about 80 percent of the stuff inside it belonged to the family that lived there. After her husband died, Mrs. Adams closed up the house and left. There was sheet music still on the piano. Books on shelves in the library. Plates in the kitchen. And a jar of cookies that look like Nilla wafers. How cool is that! So after she left, for fifty years, the contents of the house were untouched.
According to the tour guide, Mrs. Adams created a story about her husband's ghost haunting the house and encouraged people to think of her as a witch when she made an annual return to Deadwood to check on things there (although she stayed in a hotel and not at the house).
When I returned to the hotel, the person who had cleaned my room had turned the thermostat down so low, I'm surprised icicles hadn't formed on the windows. It was cold and rainy outside and freezing in my room. And believe it or not – the dirty sheets were still on the second bed and the dirty glasses were still on the counter.
I ordered the same delicious salad I had on Day 1 to take back to my chilly room since the restaurant was packed. I opened the bag to find they'd forgotten to include any eating utensils. The salad had NO dressing (ever try to eat spinach salad dry. Oh, man, is that not a tasty experience), and the yummy huckleberry cheesecake I looked forward to eating again was plain cheesecake. No berries. No topping at all. Not even a squirt of canned whipping cream! I would have trudged back down to the restaurant to get salad dressing and a fork, but I just didn't have it in me.  Thank goodness I had some plastic forks in my luggage!
DAY 4 
I woke up excited! Today was the book signing. Since my book Lucky Shot was releasing in a few days, I wanted to focus on it and had chosen a 1970s themed costume (interpret as a dress that could have been worn in the 1970s, hoop earrings, and feathered back hair.)
To channel my inner Farrah Fawcett, I had purchased a huge-barreled curling iron and watched several online tutorials to achieve her famous hairstyle. Only, when I plugged in the curling iron, it wouldn't get hot enough to curl my hair. I tried every setting on the silly thing, and it never got hot, not even on the "incinerate your hair" setting. Rats! I dug around in my travel bag (I did mention how much my luggage weighed, didn't I?) and unearthed a roller brush. Surely, it would work to feather back my hair if I dampened it a bit and used the blow dryer.
I started to roll the brush in my hair and immediately regretted that faulty decision. One minute, I was happily thinking about the day ahead, the next I had pain shooting across the left side of my scalp as the brush entangled a whole section of my hair. It took more than thirty minutes to get it untangled, and let's just say there is now a section that is much shorter than the other side. My hair stylist will not be pleased at my next appointment! The curling iron and roller brush both ended up in the garbage, and I resorted to my good ol' never-fail-me curling iron to do what I could with my hair.
It wasn't until people started snapping photos that I realized I had a bigger problem than my hair (and this photo above has all the lovely Pink Pistol sisters!)
So, something about the way the dress fit made me look like I was attempting to be a Dolly Parton impersonator! Oh, it was tragic and terrible, and I wanted to sit behind the table and hide. Only, you can't exactly do that in the middle of a book signing. Changing would have been an option, but my clothes were all packed and ready to drive to Rapid City right after the book signing so I could catch an early flight the next morning. The dress is now called my Dolly Parton dress and may never, ever be worn again.
For any of you who happened to be at the event, I'll just apologize for looking like a weirdo (and probably acting like one too). If you stopped by the table, I'm so grateful you did, and so appreciate those who donated to my Pets for Vets fundraiser. We generated $135 for the charity! Yay! Thank you!
DAY 5
A shout out to the friendly gal who was working the gift shop at the airport. I recognized her as an attendee from the book signing and had a nice visit with her before I boarded my flight.
It was a nice trip, and I'm so incredibly grateful I could meet so many lovely people – especially the PP sisters – but I was so, so glad to get home.