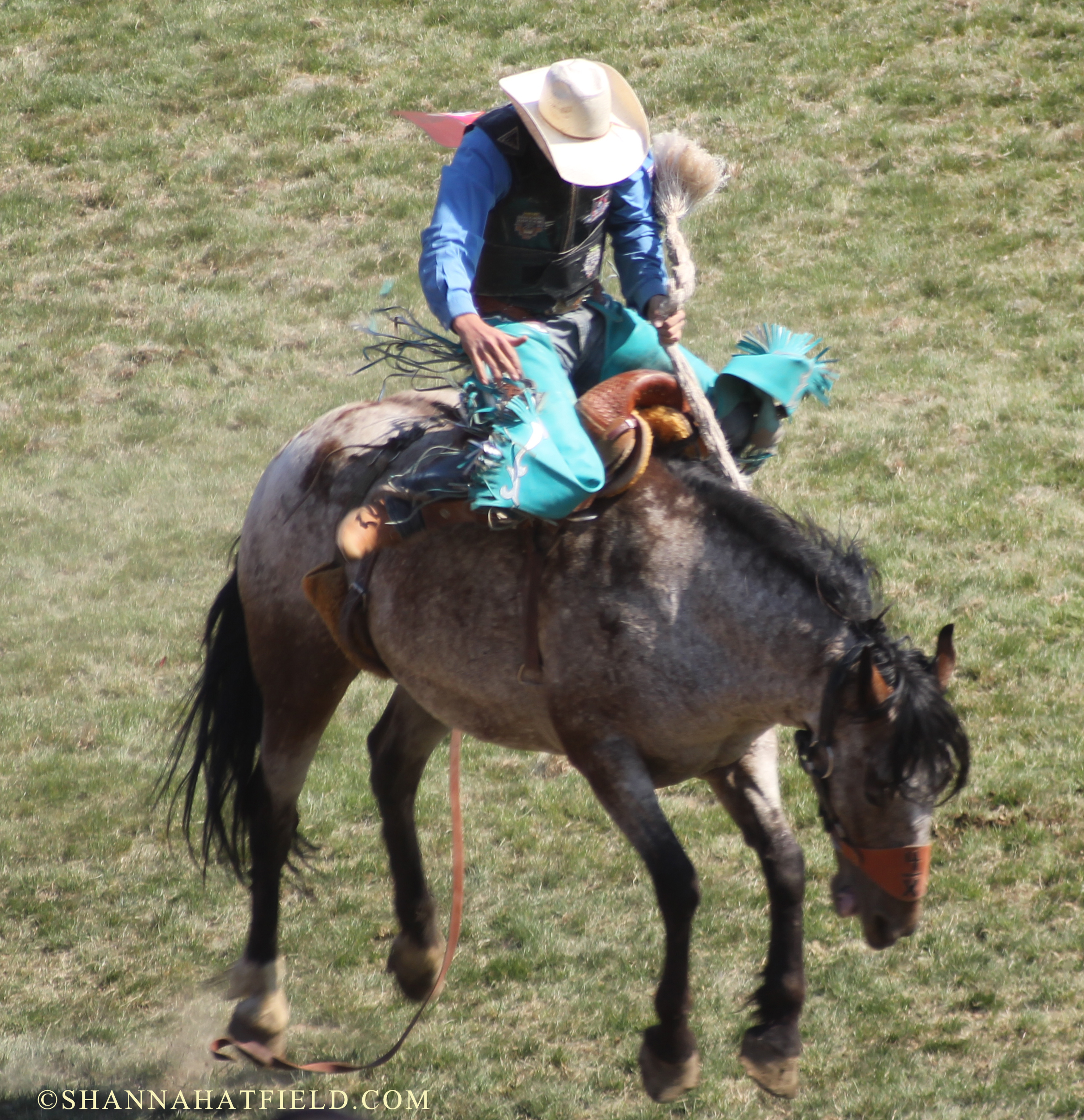 Captain Cavedweller and I spent the weekend in Pendleton, Oregon, where I had two book signings, we watched the Westward Ho! Parade (the longest non-motorized parade in the country), and attended the Pendleton Round-Up.
I think I'm still smiling from all the fun we experienced.
The weekend got off to a great start Thursday when I arrived at Hamley & Co. Western Store to do a book signing and discovered I'd be sharing the table with eight-time tie-down roping world champion Fred Whitfield.
He was at the store to sign copies of his book Gold Buckles Don't Lie. If I'd had my head on straight, I'd have taken a photo of him signing the books.
What I observed about Fred while I sat next to him for a few hours is this: he's a courteous, professional, witty guy who made every person who came up to the table feel special. Oh, and he has some secret youth elixir because he seriously does not look his age – at all.
Check out Fred's fascinating story and get an autographed copy of the book through his website.
Friday found us lining up with hundreds (or was it thousands?) of others along Pendleton's two main streets to take in the Westward Ho! Parade. We may be weird, but both of us have such a good time watching this parade. I took so many photos, CC had to run to a store down the street and get another card for my camera.
The colors and detail of this horse and rider's regalia were amazing.
Don't ask me why, but I was in love with this horse. I also liked the colors the rider wore along with the saddle blanket.
I have many, many other photos of the parade, but will save them to post another time.
After one of us found  a new pair of boots they couldn't live without and CC ran them all the way back to the rig, we indulged in a beefy lunch of barbecued steak that was undeniably delicious.
Making our way into the stands, we settled into our seats and watched the countdown on the clock as it neared time for the Pendleton Round-Up to begin.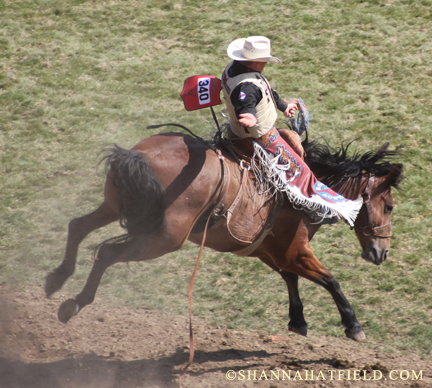 There are many things that make the experience at this rodeo different from others.
For one thing, the rodeo arena's grass floor is one-of-a-kind in the world of rodeo, adding a unique challenge for competitors. The Native American encampment is the largest in North America with more than 300 teepees annually joining in the event. It was also the first rodeo to have rodeo royalty, starting with the very first Round-Up in 1910.
People come from all over the world to see the rodeo and take in the entire Pendleton Round-Up experience. I know that for a fact because I shook hands with a man from Norway, directed a woman from England to a restroom and listened to Japanese tourists gush over the bling-y offerings at one of the vendor booths.
You'll also find the top names in rodeo talent competing at the Pendleton Round-Up, like Bobby Mote (above).
Cort Scheer is the name of a saddle bronc rider you should know if you don't. Some of you might recall that I met his super-sweet mom and sister when I was in Las Vegas during the finals in December.
It was exciting for us to watch Cort ride to victory Friday with an 84-point score.
He went on to claim the Saddle Bronc championship title Saturday with a 91-point ride! Way to go, Cort! Big congrats to you! There's a great article about his win on ProRodeo.com
Of course, I took some photos of the bulldoggers, especially since Wrestlin' Christmas just came out this month.
The Native American dancers provided a colorful presentation in the arena.
Aren't the outfits gorgeous? (And the horse, too!). The outfits and trappings are often passed down through many, many generations.
I was in love with the roses on this one. Just beautiful!
I even got inspired to take a few creative / artsy kind of photos – like this one.
The bulls tend to hug the chutes which makes it hard to get a good photo from our seats. This guy cooperated though. I like the dust billowing up from his hooves as the rider tries to make it the full eight seconds.
Speaking of bull riders, I got to meet Steve Woolsey – who just happened to win the Bull Riding event at the Round-Up.
Last year, when I was writing The Christmas Cowboy, I got in touch with the incredibly nice and helpful Rick Foster, program director of the Justin Sports Medicine Team. They take trailers to PRCA rodeos and provide medical assistance to injured rodeo athletes. Anyhoo, I met with Rick after the rodeo just to say hello and he kindly showed me the inside of the trailer. That's where I met Steve, who seemed like a genuinely nice guy.  So congrats to you, too, Steve!
Saturday found me back at Hamley & Co. signing books. It's hard work when this is the view from your "office" for the day. (It was mostly hard keeping my wallet tucked away and not buying all the cute things that caught my eye!).
Since this is supposed to be my "Happiness Monday Blog Post" here are my words of wisdom – every once in a while, leave behind all the worries and stress and to-do lists and go enjoy yourself. Immerse yourself in something that makes you ridiculously happy.
I'm sure glad we did!