Today, I thought you might enjoy a preview of the first chapter of Lucky Shot! It's set in the valley where I grew up and is full of my childhood memories!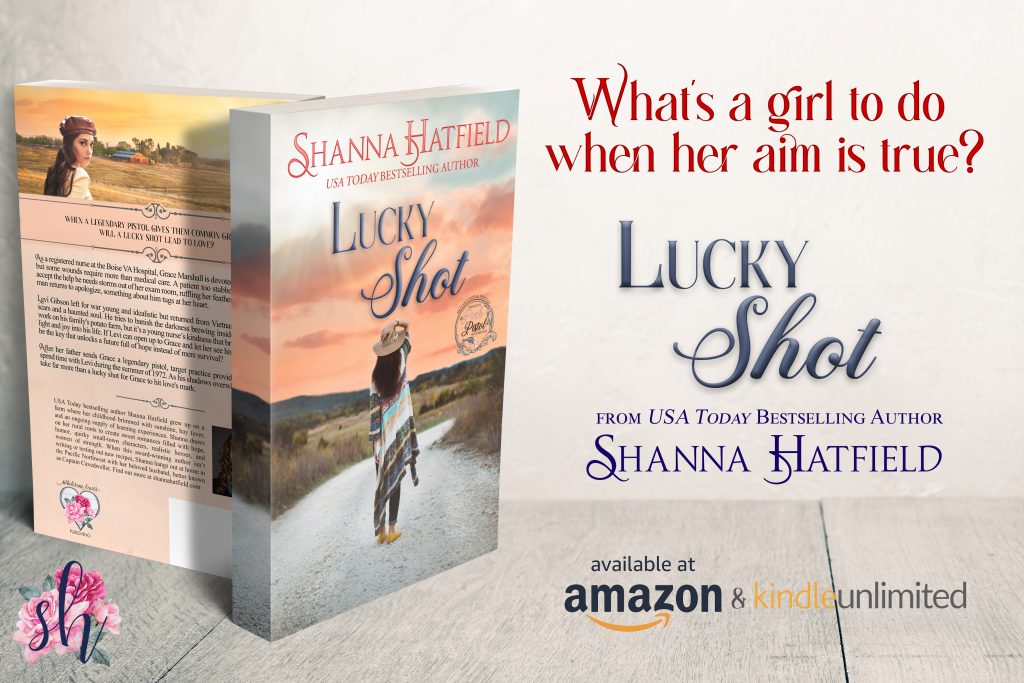 Boise, Idaho
May 1972
Ribbons of sunshine gliding through the leaves of the trees around her caressed Grace Marshall's cheek. Eyes closed, she tipped her head back to accept the gift of warmth and breathed deeply of the fresh air.
Thankfully, no one else was currently in the place used by the Boise Veterans Administration Hospital nurses as a break area when the weather was pleasant. Without the scent of cigarette smoke filling the air and the peaceful quiet of a spring day surrounding her, it was easy for Grace to block from her mind the challenging morning she'd endured, assisting an egotistical doctor with two impossible patients.
Grace turned on the transistor radio on the table, where she sat and listened as Otis Redding sang about sitting on the dock of a bay. She could sure use a vacation. What would it be like to head south, somewhere that already felt like summer, and dangle her feet in the water? Maybe spend an entire afternoon doing nothing but bathing in the sun and indulging in fruity drinks.
Then again, she could always head home to Holiday and sit with her feet in the water of one of the lovely lakes in the area. Her mom had a great strawberry lemonade recipe, and there was the pineapple punch she'd made for a birthday party last August that everyone still talked about.
Just thinking about her family in the Eastern Oregon community where she'd grown up made her lonesome to see her parents and brothers. Only Micah remained at home, though, helping with their dairy farm. Jared was with the Marines in Vietnam, although Grace had no idea of his current location. Jason was off at college in Corvallis, finishing his third year of working toward a degree in agribusiness.
As Grace bit into the roast beef sandwich loaded with pickles and celery her roommate had made for her that morning, she thought about how much she missed her mom's cheeseburger pie and chicken casserole. Grace had the recipes and could make them, but they never tasted quite the same.
She shook her head, attempting to dislodge her homesickness. She'd lived in Boise for three years, but there were still moments she longed to be back in Holiday, where the air smelled like Christmas and most everyone seemed like family.
In Boise, Grace often felt lost in the crowd, but she was finding her way and, she hoped, making life a little better for the patients she helped at the VA Hospital.
She glanced at the assortment of magazines on the table. Elizabeth Taylor and her grandson graced the cover of Ladies' Home Journal, along with promises for sew-and-go fashions that could be made in a day, if one had time for sewing. She glanced at an article about an opportunity to win a free vacation.
"Not likely," she muttered, took another bite of the sandwich, then picked up the latest copy of McCall's magazine. It offered nostalgic needlework ideas and had one of her favorite features—a bonus historical romance story. Grace loved to read; she just didn't get much time to enjoy it.
Quickly opening the magazine to the story, she was soon engrossed in the tale. It wasn't until she heard a chair squeak that she realized she was no longer alone.
"Hey, Susie. How are things going for you today?" she asked as she dabbed her mouth with a paper napkin, then took a drink of the Coca-Cola she'd purchased from the vending machine inside. Little droplets of condensation slid along the neck of the glass bottle as she tilted it to her lips.
"As good as can be," Susie said, reaching for the Cosmopolitan magazine and flipping it open before she folded back the waxed paper on her cheese sandwich and took a bite.
Grace returned to the story and her lunch, enjoying both before she glanced at the watch on her wrist and knew it was time to head back inside. How she wished she could yank off the white stockings she wore and bask in the sunshine this afternoon. Instead, she had plenty of patients to see and important work to do.
"See you later," she said to Susie, then gathered her things and returned inside.
An hour into her afternoon shift, she wished she'd stayed outside. One cranky patient had yelled at her when she'd tried to check his pulse, and one downright nasty man had threatened her just as the doctor walked in. Thankfully, Dr. O'Brien had asked her to send in one of the older nurses to deal with the unpleasant patient.
By the time her work wrapped up for the day, Grace was exhausted and more than ready to head back to the apartment she shared with her best friend.
She and Cindy Milton had been friends since they were old enough to walk. They were in the same grade in school and even had crushes on the same boy in their junior year of high school. However, Caleb had returned Cindy's affection. The two of them had been engaged to marry before he'd gotten himself killed in Vietnam.
Thoughts of the war always made Grace's heart feel as heavy as one of the anvils Cindy's grandfather kept in the old livery building in Holiday. She hated that so many young men had died. Almost as tragic was the way the returning soldiers were treated by so many, as though they had single-handedly caused the war. Political views aside, Grace thought anyone who fought for America deserved respect and gratitude.
She knew how hard it was on soldiers to go off to war, and not just from the men she treated at the hospital. Her father as well as her Uncle Thad had fought in World War II. While her father had survived his time spent in the Pacific battling the Japanese, Uncle Thad had been killed by a German bullet in France, leaving behind a wife and two children who missed him still. Although her father rarely talked about the war, Grace knew he still occasionally had nightmares that would wake them all in the stillness of the night.
The dark thoughts circling like vultures in her mind weren't appropriate for such a lovely day. When her shift ended, Grace stepped out into the bright spring sunshine and shrugged them away.
"Do you and Cindy have plans this evening?" Susie asked, falling into step with Grace as they walked across the lot where the staff parked.
"No. At least none of which I'm aware," Grace said with a grin. Cindy, who was full of fun, often talked her into spur-of-the-moment adventures.
"Well, after a busy day like today, on our feet at the beck and call of the doctors, I think we deserve a quiet evening to rest." Susie sighed as she set her purse inside her car and unpinned the hat from her short hair. "However, I have no doubt my husband will expect dinner on the table as usual."
"I hope you have a nice evening. See you tomorrow." Grace waved at Susie, then continued walking to her car, a hand-me-down from her oldest brother. Micah had bought the sporty two-door Chevrolet Impala brand new out of a showroom six years ago, but last fall, he'd purchased a new pickup and asked Grace if she'd like to have the car, no strings attached. She'd practically screamed in his ear when he'd phoned to offer the car to her. She'd loved it the moment Micah had driven it home, and she loved it even more now that it was hers.
Although the weather hadn't offered too many days warm enough to roll down the windows and let the wind blow through her hair, Grace looked forward to it this summer.
Like Susie, she unpinned the hat from her head and loosened the top two buttons of her uniform as she waited for Cindy.
Cindy didn't like to drive or own a vehicle and preferred it that way. Typically, though, her friend beat her to the car. Rather than linger in concern over why Cindy was late, Grace reached behind the seat and retrieved a paper tablet, scrounged a pen out of her purse, then started writing a letter to send to Jared.
It had been a while since she'd written to him. If she hurried, she could bake a batch of brown sugar drops tonight, then get a care package ready to mail to him tomorrow. She'd collected a few things she thought he might enjoy, like a new book Jason had recommended, and packages of Jared's favorite gum and candy. Jared loved Fruit Stripe gum and was the only one in their family who preferred Butter Rum Life Savers to any other flavor. Just for fun, she planned to include some Pixy Stix and a few boxes of Lemonhead candy.
Attention centered on the letter she wrote, describing the weather, the wall she and Cindy had painted in their apartment's bathroom, and family news he might not have heard, she sucked in a gasp when her friend yanked open the car door and plopped onto the passenger seat.
"Man, I am beat. Let's go home." Cindy set her purse between her feet and looked over at Grace. "You look awful." Her nose wrinkled. "And what is on your uniform?"
Grace glanced down at the stains on her dress and shook her head. "You don't want to know."
"You're right. I don't."
Grace ripped from the tablet the pages she'd written on and tucked them into her purse, then started the car. "Any side trips on the way home?"
"Not tonight." Cindy rolled down her window and rested her elbow on the door, drawing in a deep breath as she visibly relaxed. "Gosh, it was a long day, wasn't it?"
"No argument from me." Grace wondered what had happened to make her sunshiny friend look more like a raincloud. Cindy worked in the administrative offices at the hospital, but most often, she ended her workday with the same chipper attitude with which it began.
Grace might have found it highly annoying if she hadn't loved her friend so much. Cindy had always been sweet and cheerful. Even after losing her fiancé, she'd managed to offer comfort to those around her while she had stoically worked her way through her grief.
Two years later, Cindy remained alone and unattached, and Grace worried she might never date again, but if time truly healed all wounds, then perhaps love awaited Cindy somewhere in the future.
Love had proven to be quite an elusive thing, at least where Grace was concerned. Then again, she'd never been deeply in love with anyone. Not the way Cindy had loved and been loved. Grace longed to have that kind of soul connection with another and often dreamed of the day she might have a husband and family of her own. She was so busy with work and everything else in her life she didn't have much time or energy left for dating, even if she'd met someone who sparked her interest. Which she hadn't. Not yet. But a girl couldn't give up hoping to find true love.
She tried to recall the last time she'd been on a date as she drove to their apartment building located halfway between the hospital grounds and the Boise River near the zoo. The building was only a few years old, and the apartments had a long waiting list, but Cindy's uncle knew someone who was friends with the building manager and had gotten them into an apartment when they'd decided to move to Boise. It wasn't overly spacious, but it was clean and safe, and the rent was affordable.
"What do you think of noodle goulash for dinner?" Grace asked as she pulled into her parking space at the apartment building. It was her turn to cook since they traded off every other night. A trip to the grocery store would need to happen soon, but she thought they had enough ingredients to make the simple dish that was filling.
"As long as you're cooking, I'm all for it," Cindy said with a grin as she rolled up the window and got out, locking the door behind her.
Both sets of their parents had lectured them about being careful, taking precautions, and not assuming a bigger city like Boise, in comparison to their small town of Holiday, was always a safe place for two young women.
So far, neither of the girls had run into any trouble. Then again, they rarely stayed out late and avoided the seedier parts of town.
"I'm so glad tomorrow is Friday," Cindy said as she held open the door to the lobby.
"You and me both. I'm so grateful to be on a day schedule now. Working nights was terrible, and so was working weekends. I feel very fortunate to work in the office with Dr. O'Brien. Even Dr. Bernstein and Dr. Robinson are tolerable on most days."
Cindy nodded in agreement as they walked over to the mailboxes on the wall and retrieved their mail.
Grace glanced down at a note from the building manager letting her know she had a package to pick up. She held up the yellow notecard so Cindy could see it. "Want to come with me to retrieve whatever this is?"
"Sure."
Together, they made their way to the building manager's door down the hall on the main floor. Grace knocked and listened as she heard someone holler that they were coming.
"Hey girls," the older man said as he pulled the door open with a smile. "Got a box right here for you, Miss Marshall."
"Thank you, Mr. Crocker." Grace handed him the notecard, then accepted the box he held out to her.
"It's got some weight to it. Postmark is Holiday. Assumed it must be from your folks."
Grace nodded, wondering if the snoopy old man had removed the brown paper wrapped around the box and investigated it or had managed to hold back his curiosity enough to let her be the first to open her own mail. "Thanks, Mr. Crocker. Have a nice evening."
"You girls do the same." He was already closing the door before they could turn around and head to the stairs. They lived on the second floor of the three-story building. The basement held a nice laundry facility, which was great since Grace had to wash her uniforms frequently. Grateful she had one clean dress to see her through her last shift of the week, she knew she'd spend part of her Saturday scrubbing stains out of the white fabric, then pressing the uniforms so they looked crisp and fresh.
"Wonder what you got?" Cindy asked as they made their way up the stairs, turned down the hall, and used her key to unlock their door.
"Whew! It's warm in here," Grace said, stepping inside and heading straight for the windows in the living area. She set her box and purse on the floor by the couch, pushed the curtain aside, and opened the window, letting in the fresh air.
Cindy did the same with the window in the kitchen before they both went to their rooms to change. The apartment offered a small kitchen with a little dining area between it and the living room. Two bedrooms were on either side of a short hallway with a bathroom located at the end. There was one closet in the hallway where they stored linens and another by the door where they kept their coats. The space was efficient if not roomy.
Grace gave Cindy a few moments in the bathroom, then grabbed a change of clothes. She took a shower, washing away the grime and sickness of the day, then slathered lotion on her skin that held a faint tropical fragrance. She tugged on a pair of worn jeans and a soft T-shirt before rushing to the kitchen.
Cindy stood at the stove browning the ground beef they'd need for the goulash.
"I said I'd cook," Grace admonished as she took out a large pot from a bottom cabinet. She filled it with water and then set it on a burner to boil.
"I know, but I'm starving. The sooner we get this ready, the sooner we can eat." Cindy grinned at her. "I'm also dying to know what is in the box you received and assumed you'd open it after dinner."
"You assume correctly. I'll open it right after we eat. While the goulash bakes, I want to whip up a batch of cookies for Jared."
At the mention of her brother, Cindy blushed.
That was new.
Grace knew Jared had written to Cindy a few times after her fiancé was killed, but had her brother been writing to her best friend more frequently than she realized? If romance was brewing between Cindy and Jared, it would make Grace deliriously happy. She'd dreamed so many times of Cindy becoming her sister. In a small town with three handsome brothers, the odds had been in her favor, but Cindy had always loved Caleb.
Now, though, with just the very mention of Jared's name making her friend's cheeks turn pink, Grace could hardly hold her tongue, wanting to know if romance was afoot, but she wouldn't say anything. At least not yet.
"I thought if I baked the cookies tonight, I could box up a care package. I can mail it tomorrow on my lunch break."
"That's a great idea, Grace. I'm happy to help."
Grace bit her tongue to keep from teasing Cindy and merely nodded her head in thanks.
While Cindy finished cooking the ground beef with chopped onion, thinly sliced celery, and salt, Grace drained the noodles, then stirred them with tomato sauce and added it to the meat mixture. She spooned the meat and noodles into a casserole dish, added shredded cheese on top, then slid it into the oven. In about twenty minutes, they'd have a hot, filling meal with enough leftovers that they wouldn't have to cook tomorrow night.
Grace washed the dishes they'd dirtied while Cindy got out their baking sheets and set out ingredients to make cookies.
"Brown sugar drops?" Cindy asked as she retrieved brown sugar from the refrigerator and set it on the countertop.
"That's what I had planned." Grace set the skillet she'd just dried back on the stove, then hurried to cream together shortening and eggs while Cindy measured the sugar and flour. Working together, it didn't take long to have the cookies ready to slide into the oven.
While Cindy set the table, Grace made a green salad with the last of their lettuce, a stubby end of a cucumber, and a few radishes. How she longed to pluck a fresh radish from her mother's garden, brush away the rich earth, and bite into it.
For now, what they could buy at the grocery store would have to do.
Truly, Grace was thankful she and Cindy could share the apartment and expenses. She knew they fared better than many young women living on their own. It helped that Grace's brother had provided her with a car, and both of their families had donated a motley assortment of furniture for them to use.
Grace glanced at their couch, which had once belonged to her grandparents, and the table and dining chairs that had once sat in the Miltons' home. There wasn't a single piece of new furniture in the place, but somehow it all worked together.
She looked around the apartment, at least what she could see from her spot in the kitchen. The walls in the living room and bedrooms were painted a soft cream color instead of some ghastly modern hue. The kitchen cupboards were pale maple, the countertops white, and the wallpaper was a dainty pattern of flowers on a white background, giving the space an old-fashioned charm.
"Is it ready?" Cindy asked, filling two glasses with iced tea and carrying them to the table. "I'm so hungry, I might start gnawing on the silverware."
"You aren't the only one." Grace grinned over her shoulder as she pulled the casserole from the oven and carried it to the table. She slid the cookie sheets into the warm oven and retrieved the salad, then the two of them sat down and bowed their heads. Grace offered a brief word of thanks for their meal, then they dug into it, discussing their day and the problems they'd both experienced at work.
By the time they finished eating, the cookies were baked, and cooling on a rack. Grace washed the dishes, while Cindy dried them, then they returned to the living room.
"Will you open it now?" Cindy pointed to the box on the floor at the end of the couch.
Grace was as curious as her friend to find out what was inside the box, but she wanted to make the anticipation last as long as possible.
However, the box would be perfect to use to send Jared's care package, so if she wanted to pack it tonight to have it ready to mail to him, she needed to open it and discover what her family had sent to her.
"Fine," Grace feigned indifference as she opened the sewing box they kept beneath the coffee table and took out a pair of silver swan-neck scissors that had once belonged to her great-grandmother. She used the sharp tip to cut the string around the box, and pulled away the brown paper, which was a grocery sack. Her economical mother had trimmed off the bottom and slit up the side of a bag to wrap the box. Grace could turn it over and use it to wrap Jared's package.
She opened the box to find a note on top of what appeared to be a finely crafted mahogany case.
"What is it?" Cindy asked, leaning over the throw pillow on the couch to see into the box.
"I'm not sure," Grace said, quickly opening the note that was written in her father's bold hand.
Dear Gracie,
When I was in Salem at the dairymen's meeting last week, I wandered into a store selling vintage items, which I never do. We have enough of our own junk at home without paying good money for someone else's cast-offs.
Grace smiled, envisioning her father wandering through a shop filled with turn-of-the-century treasures and snarling at each thing he encountered.
Don't ask me what or why I felt compelled to go into that store, but the moment I saw this, I knew you had to have it. Not only is it pretty, but it will also come in handy if you ever need to defend yourself. Also, the clerk who sold it to me said it once belonged to Adelaide Brennan—the actress I've always been so fond of watching. I have no idea how the gun wound up in Salem, but it seems to have quite a storied past. Ironically enough, it has even been in Holiday before, in the possession of one of our relatives. There's a note in the pocket inside the case you should read. Use this key to open it.
We miss you, baby girl, and hope life is good there. Looking forward to your next visit.
Love you,
Dad
P.S. Your mother mailed a letter to you yesterday, so if you haven't received it yet, it should arrive shortly. You can get all the gossip from her.
"Wow!" Grace said, setting aside her father's note, lifting the case from the box, and setting it on her lap.
"Is that a gun case?" Cindy asked, leaning closer as the two of them examined the ornate pink mother-of-pearl inlay in the lid.
Grace reverently smoothed her fingers across it before she lifted the little brass key on a tarnished silver chain from the envelope that had held her father's note and inserted it into the lock on the case.
The click echoed throughout the room as she and Cindy held their breaths, anxious to see what treasure the case contained.
"Oh, my," Cindy said when Grace lifted the lid to reveal a pistol made with pink mother-of-pearl grips that appeared to match the lid of the case. "Why on earth did your family send this to you?"
"Dad sent it. Apparently, he found it in a junk store in Salem when he was recently at a dairymen's meeting. According to what he wrote in the letter, he bought it because I need protection, the gun is pretty, and it was supposedly owned by an actress he likes."
Cindy grinned. "Was it Adelaide Brennan? Your dad seems quite smitten with her. He practically runs over people in his haste to get to the television if one of her movies comes on."
Grace laughed, knowing what Cindy said wasn't much of an exaggeration. "It was Miss Adelaide. The woman has to be what, close to eighty now?"
"I would think so," Cindy agreed, then motioned to the pistol. "I've never seen anything so pretty and deadly. It's like a Wild West weapon tangled with something entirely feminine."
"Dad said there's a note in the pocket that explains about the gun." Grace found the pocket in the lining of the case and gently extracted a letter that was growing yellow with age.
The words were written with a type of penmanship she'd only seen on postcards and notes sent by her relatives from decades ago.
She who possesses this pistol possesses an opportunity that must not be squandered. Cast in the tender dreams of maidens from ages past, the steel of this weapon is steadfast and true and will lead an unmarried woman to a man forged from the same virtuous elements. One need only fit her hand to the grip and open her heart to activate the promise for which this pistol was fashioned—the promise of true love. Patience and courage will illuminate her path. Hope and faith will guide her steps until her heart finds its home.
Once the promise is fulfilled, the bearer must release the pistol and pass it to another or risk losing what she has found.
Accept the gift . . . or not.
Believe its promise . . . or not.
But hoard the pistol for personal gain . . . and lose what you hold most dear.
"Well, that's quite a … warning." Cindy grinned again. "What do you think? If you hold the pistol and make a wish, will Prince Charming come knocking at our door?"
Grace scowled at her. "Not likely. For goodness' sake, who believes in such silliness?" She glanced down and noticed more writing on the aged parchment.
A gift from the great Annie Oakley, this pistol carries a legacy of love. If you possess this pistol and find love, please record your name and a bit of your story to encourage those who follow.
Tessa James married Jackson Spivey on March 3, 1894, in Caldwell, Texas – I was aiming for his heart but accidentally winged him in the arm. Thankfully, forgiveness and love cover a multitude of mishaps.
Rena Burke wed Josh Gatlin on June 2, 1894, in Holiday, Oregon – When my trousers and target practice didn't send him running, I knew true love had hit the perfect target for me.
"Oh, my stars!" Grace gasped, pointing to the paper. "Look, Cindy! It's Rena Burke. She was a cousin to my great-grandpa, Theo Marshall."
"What?" Cindy read the note and shook her head. "How could this be? How could this pistol go from what appears to be Texas to Holiday to all these other places, then end up in a store in Salem where your dad just happened to find it? What are the odds of that happening?"
"Maybe it's not odds. Maybe a little divine intervention nudged Dad to go to that store and buy this." Grace knew it sounded far-fetched, perhaps even whimsical and fantastical, but the thought that one of her long-ago relatives had held this pistol in her hand, not to mention the legendary Annie Oakley, made her take the note more seriously.
She read it again. The last entry was from 1955.
Rexanna Brennan married Roan Bertoletti on September 29, 1955. I've shot exotic game worthy of the finest of trophies, but my cowboy's love has been my biggest prize of all.
Brennan. She wondered if Rexanna Brennan was related to the actress her father adored. If so, it made sense how the woman would have been in possession of the gun.
But what about all the other women who'd owned it in the past? Could the words penned all those years ago hold truth? According to the instructions, all Grace needed to do was hold it in her hand and open her heart to love.
That sounded easy enough. She certainly wasn't opposed to love, even if she hadn't found it yet.
While it might seem trivial to believe in such nonsense, a little voice in the back of her mind reminded her she didn't have anything to lose by trying.
She certainly couldn't get more alone than she already was unless Cindy suddenly decided to leave her, which she knew wasn't about to happen. Not when the two of them were closer than sisters.
Grace folded the letter and returned it to the pocket in the case's lining, lifted the pistol in her hand, and closed her eyes. She remained silent, letting the thoughts roll through her mind. "I open my heart to the possibility of love, to the hope that somewhere out there is a man who'll love me truly, fiercely, faithfully, and tenderly for the rest of my life, and when he comes along, I'll be wise enough to realize it's him."
Cindy hopped off the couch and made a great show of racing across the room and pressing her ear to the door while Grace returned the pistol to the case, tucking the key inside before she closed the lid.
"What are you doing?" Grace asked as Cindy pretended to be listening for footsteps.
"Eagerly awaiting the approach of true love." Cindy giggled. "Do you think Mr. Crocker will let your prince ride his white charger up the stairs?"
Grace rolled her eyes and lobbed a pillow at Cindy. "Come away from the door, you loon, and help me pack this box for Jared."
As the two of them worked to fill a tin with the cookies and pack treats and essentials Jared would appreciate into the box, Grace's thoughts swirled around the pink pistol and the legend of love it had so unexpectedly brought into her life.
Later, when she settled into bed, she closed her eyes and drifted to sleep, contemplating what it might be like to finally fall in love.