Today is National Cherish an Antique Day.
I know some people look at antiques and see old junk.
For me, though, I see stories and history, and can't help but think about the lives each object has touched, the hands that have held it, the stories it's heard, the triumphs and tears it's seen.
Antiques are a way for me to connect with my past, to cherish those things that mattered to our ancestors, and to preserve them for a future generation.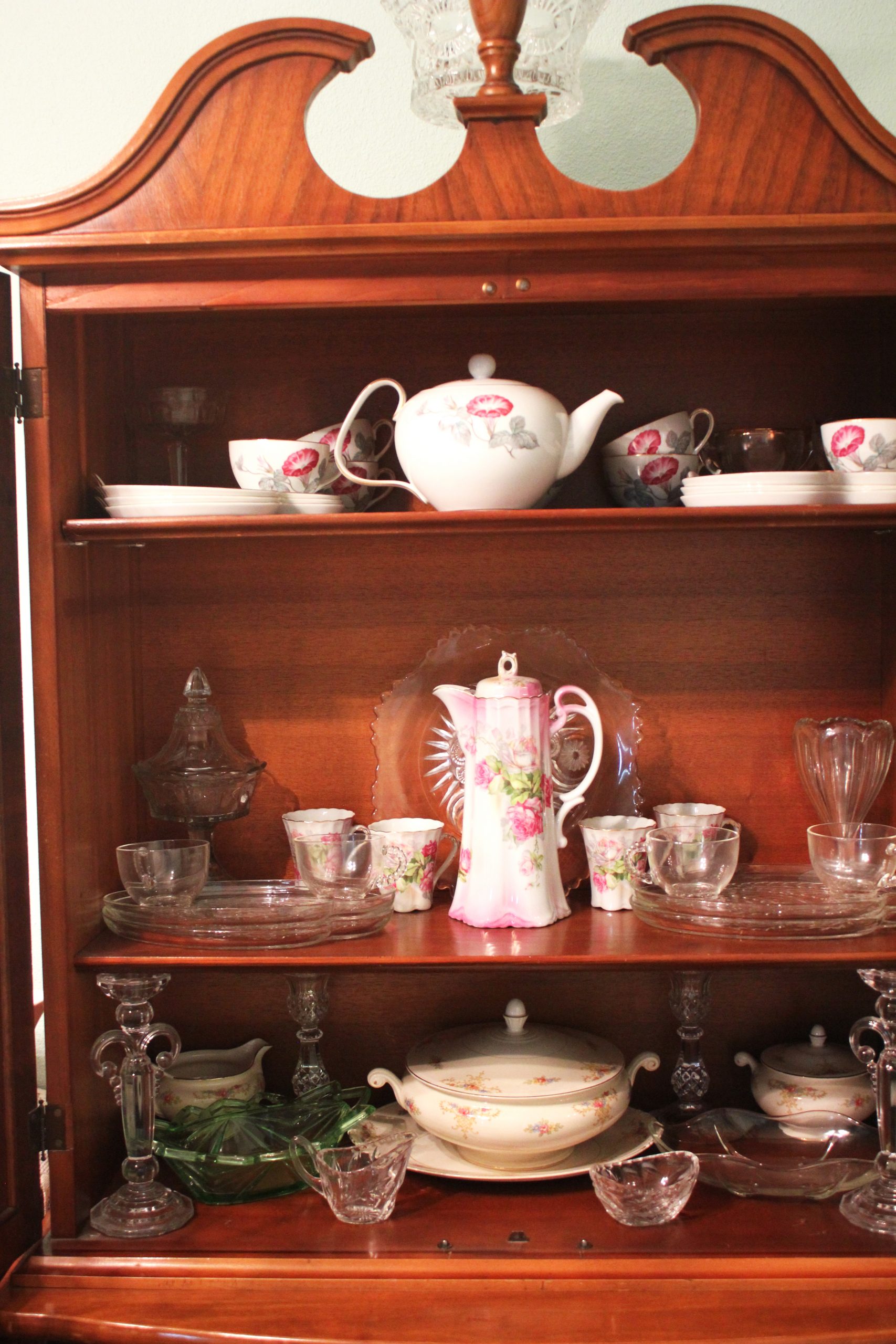 This china cupboard belonged by my dad's mother, so that in itself makes it incredibly special to me. As the youngest grandchild, I'm not sure how I was the one chosen to receive it, but I'm so glad Granny gave it to me. The dishes inside it are cherished treasures, too.
The morning glory tea set on the top shelf was a gift to my mom my uncle brought back from Japan when he was in the service in the early 1950s. Each of my aunts got a matching set.
You can't see it very well,  but in the top left corner of the cupboard, there's a pedestal jelly dish. When she was nine years old, my Granny saved her pennies and bought that for her mother for her birthday.
On the second shelf is a beautiful hot chocolate set Captain Cavedweller bought for me years ago. Behind the pitcher is a plate that belonged to my great -great-aunt. She received it as a wedding gift. And, because my mom was named after her, she passed it on to Mom, who passed it on to me.
The soup tureen on the bottom shelf is part of a delicate set of china my grandpa bought Granny for their anniversary (their 10th, I think it was). I have all those pieces and even with chips and breaks, they mean the world to me.
There's a sugar and creamer set that belonged to CC's great-grandmother on his mother's side of the family, and a goblet and candy dish that belonged to his great-grandmother on his father's side.
And there are relish dishes that belonged to two of my great-grandmothers.
When I look at those pieces, I think about the women who cherished them, how their lives have touched my own, especially with them all gone now.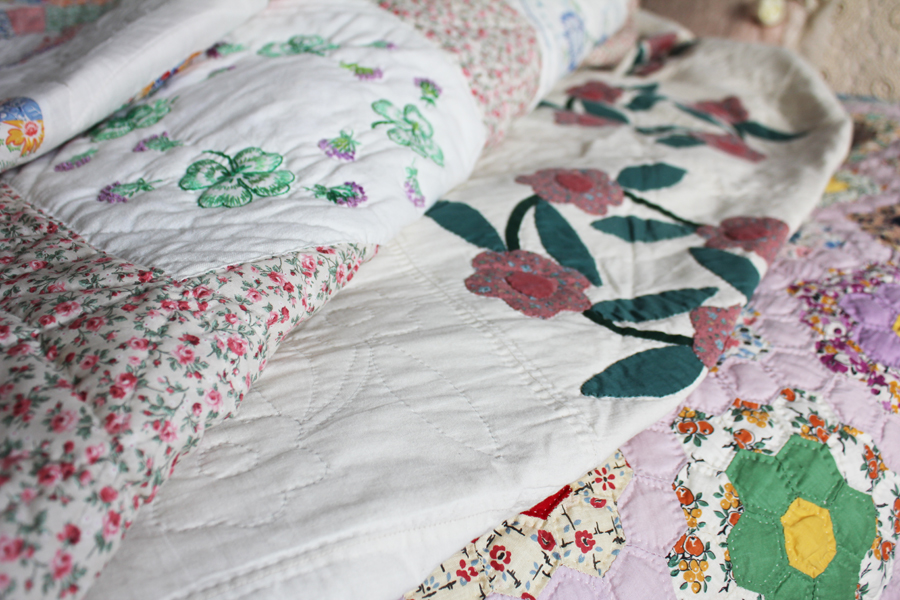 It's not just dishes that speak to my heart, either.
I have several quilts. The one on top is made from blocks stitched  by CC's great-grandmother. The center one was a wedding gift from my Granny, and the bottom one once belonged to my aunt's mother-in-law who loved to quilt. Each stitch tells it's own story. And I like to think about the conversations held around quilting frames as the women gathered to make quilts.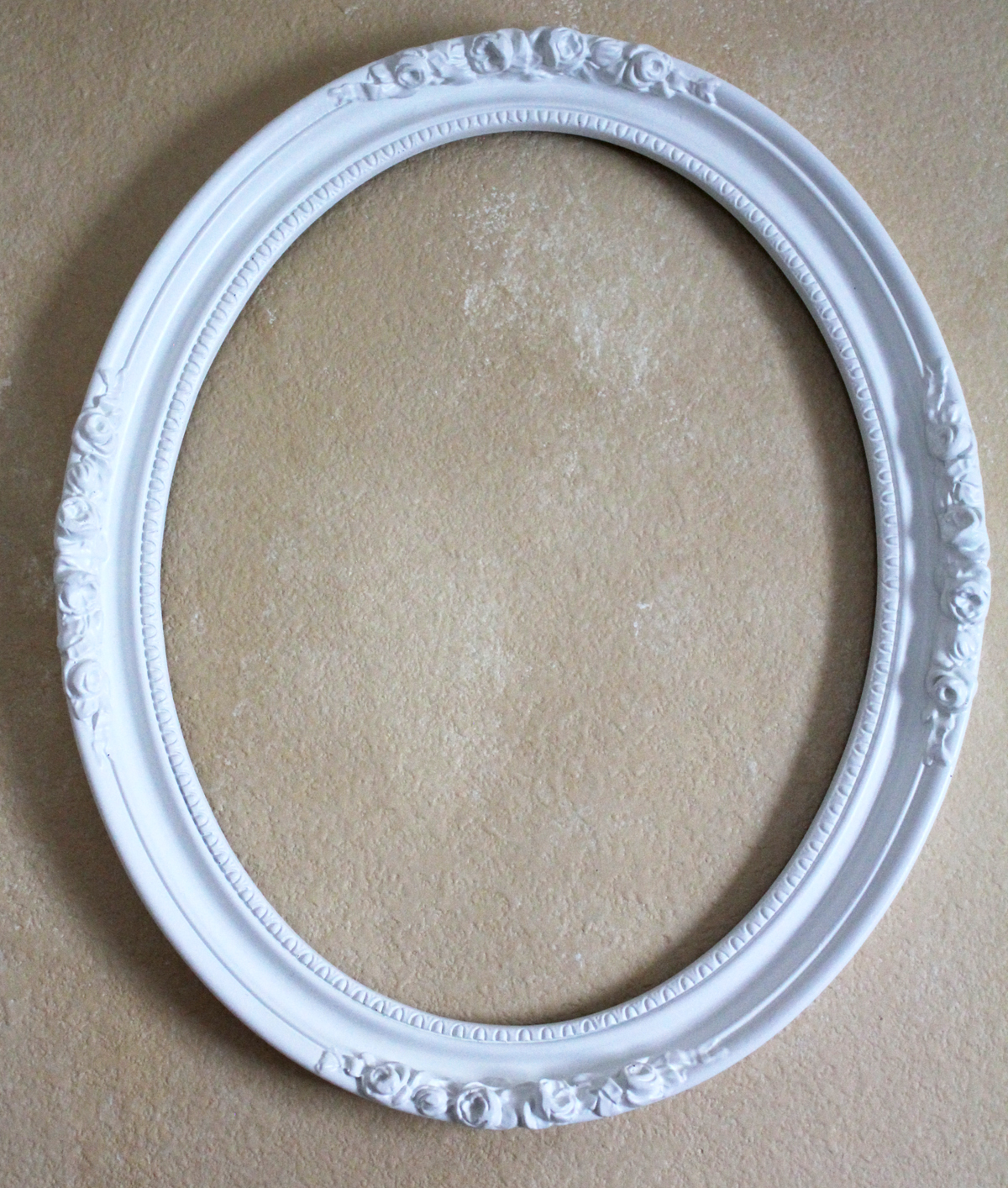 I found this vintage frame in an antique shop and, after cleaning it, I painted it, added a mirror, and smile every morning when I see it in my bathroom.
My treasures include a beaded reticule that once belonged to my great-grandmother. As the story goes, when my dad and aunt were little, they were standing at the top of the stairs, fighting over it. My aunt told dad to give it back, so he let go, and she fell down the stairs. At the bottom she hopped up, held the reticule over her head, and gave him a triumphant tongue-sticking-out raspberry then said, "Ha! Ha! It's mine!"
I have handkerchiefs from my grandmothers, rhinestone jewelry and a pair of silk stockings still in their original box from CC's grandma, and so many other treasures we've either been given or collected over the years.
And each one is precious, not in monetary value, but the joy they bring to my heart, and the stories that keep us linked to those we love.