Each Saturday this month I'm sharing a scene from one of my books. This week's spotlight is on one of my favorites books – Garden of Her Heart. It's the first book in my Hearts of the War triology. If you haven't read it yet, it's a tug-at-your-heartstrings romance full of historical events that took place on the home front as America join in World War II.
For a limited time, you can get the book for just 99 cents!
Can forbidden love blossom amid the constraints of war?
The moment the Japanese bombed Pearl Harbor, life shifted for Miko Nishimura. Desperate to reach the Portland Assembly Center for Japanese Americans, she's kicked off the bus miles from town. Every tick of the clock pushes her closer to becoming a fugitive in the land of her birth. Exhausted, she stumbles to her grandparents' abandoned farm only to find a dying soldier sprawled across the step. Unable to leave him, she forsakes all else to keep him alive.
After crashing his plane in the Battle of the Atlantic, the doctors condemn Captain Rock Laroux to die. Determined to meet his maker beneath a blue sky at his family home, he sneaks out of the hospital. Weary and half out of his mind, he makes it as far as a produce stand he remembers from his youth. Rather than surrender to death, Rock fights a battle of the heart as he falls in love with the beautiful Japanese woman who saves his life.
A poignant, sweet romance, Garden of Her Heart proves love can bloom in unlikely places even under the most challenging circumstances.
Winner of the 2017 RT Review Source Award and a RONE Finalist
"Shanna Hatfield's Garden of Her Heart is a warm and moving WWII story of a love hoping to bridge two cultures in a time of turmoil. Strong characters, historical authenticity, and unique twists of fate blend with details of American Japanese life near Portland Oregon and a wounded soldier's love. It both informs and inspires. Readers will remember this unique romance that blooms in the garden of the spirit and the heart."
Jane Kirkpatrick, NYT Bestselling Author and Award-winning author of This Road We Traveled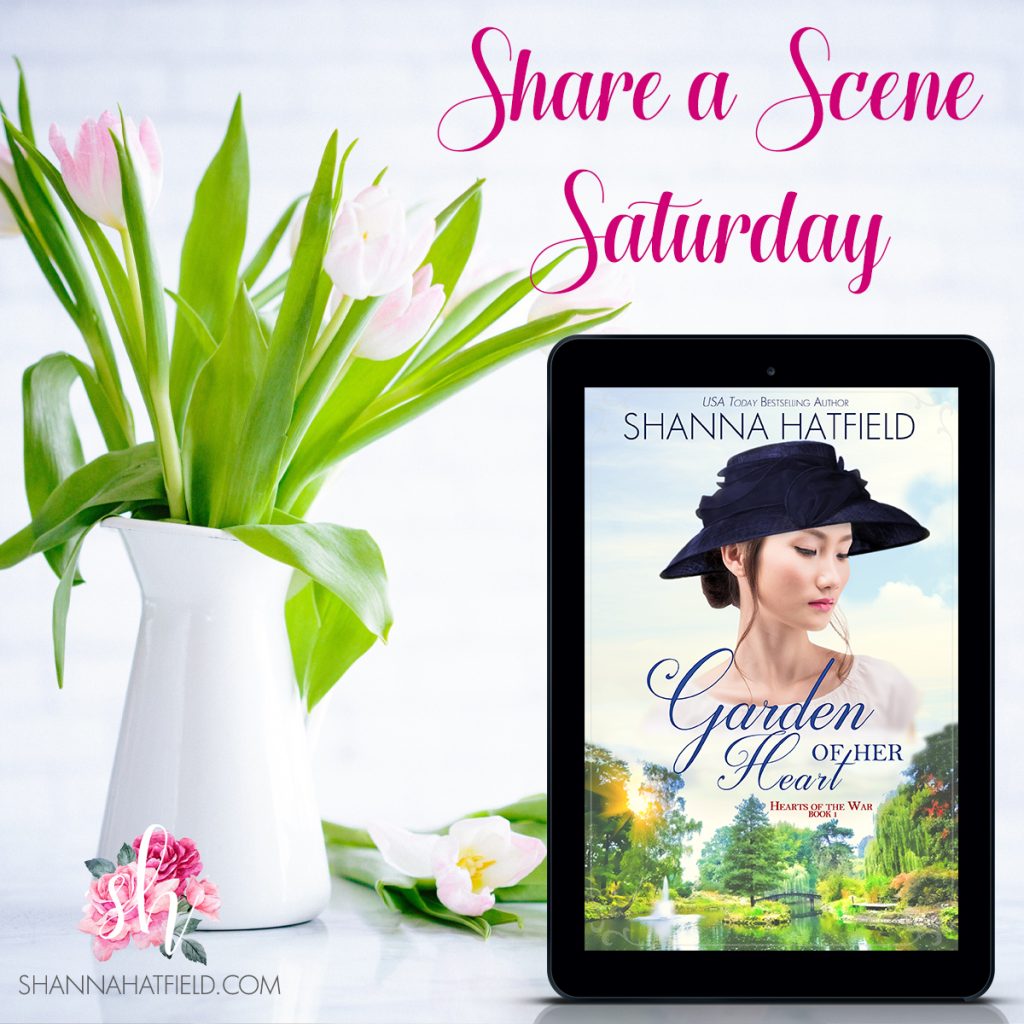 Instead, her father stared at him and asked a single question.  "Describe Miko in one word."
"One word, sir?" Rock asked, confused.
"Yes. If you summed up everything about her in one word, what would it be?" Jack's face remained impassive as he waited for Rock's answer.
Taken aback by his request, Rock's thoughts splintered in a hundred directions. Only a few seconds passed before the word that floated through the maelstrom in his head gained clarity. "Hummingbird."
Baffled, both Shig and Jack stared in confusion.
"Explain, please," Jack said.
Rock took a deep breath. "Before I was wounded, I was stationed in Trinidad, off Venezuela's coast in the southern Caribbean. The area is a big melting pot of combined cultures — Creole, East Indian, Chinese, African. A great diversity of flowers and shrubbery grow there, and it offers more than four hundred different species of birds. But do you know what they call the island?"
At the men's interested looks, Rock continued. "Land of the Hummingbird. While I was there, I saw many of them. The islanders believe hummingbirds are symbols of all that is good and they carry joy wherever they go. Hummingbirds are fearless, determined, adaptable, and flexible. They possess the courage of a mighty lion and the magic of mythical fairies. Hummingbirds have boundless energy and endurance. Those little birds can make the most difficult journey seem like a simple matter, and they are loyal, devoted to the garden they claim as their own. They are fiercely independent, but those who accept that can long enjoy the beauty and wonder of those amazing little winged fellows."
Jack's mouth quirked upward and he bit back a smile. "So you're saying Miko is like a demented bird who wants only to suck the sweetness out of life?"