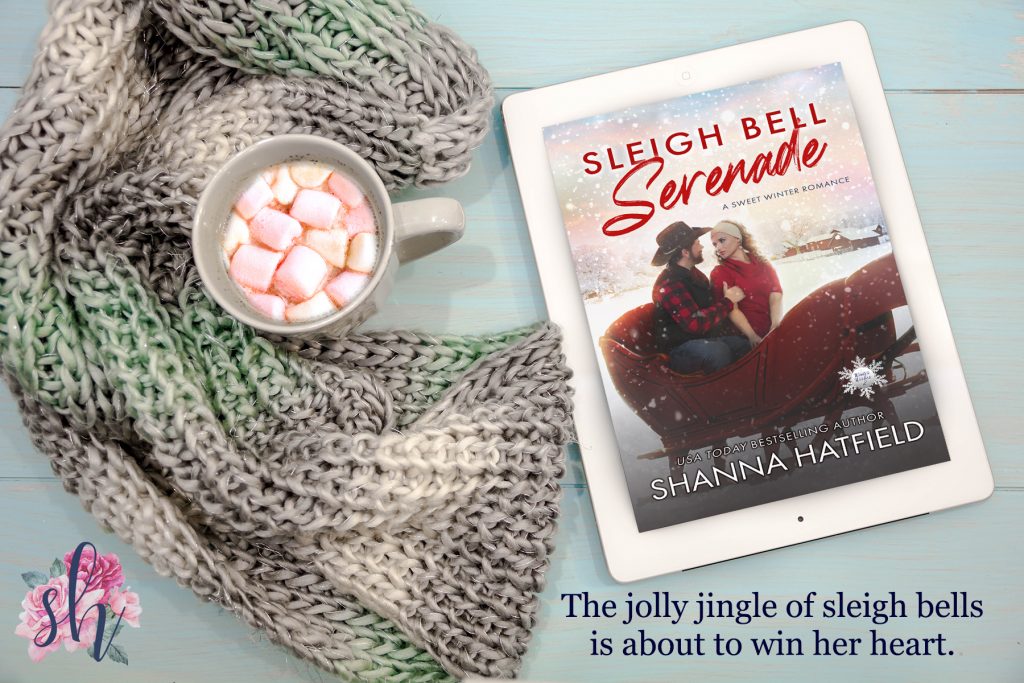 Sleigh Bell Serenade releases next week on January 19.
I thought you might enjoy a sneak peek at the first chapter today.
~*~
"Please, Bo? Pretty, pretty please?"
Bowen Jensen cast a glimpse at his sister as she stood on the other side of the team of black horses he hustled to finish harnessing to an old-fashioned two-seater sleigh. He had an appointment to pick up a family of four in fifteen minutes and give them a tour of Pinehill, Oregon, the town where he had been born and raised.
Over the years, Sleigh Bell Tours had proven to be a lucrative enterprise, at least when snow blanketed the ground. Thanks to a snowy month of December, their business had been booming the last few weeks. Despite his sister's pleadings, he couldn't ignore his clients, even if it was Christmas Eve.
Bo patted the rump of Jangle, the horse nearest him, and watched as his sister, Sasilia Rosemary, better known as Sassy Rose, adjusted the bright red bow attached to Jingle's tail.
She finished straightening the ribbon, then gave him a pleading look. "Please, Bo? It's Christmas Eve!"
"I'm fully aware of the day, Sass, but I can't just take off whenever I feel like it. This business won't run itself, and we can't let our clients down."
Sassy sighed and rolled her eyes with all the teenage angst she could muster.
Rarely did a day go by that Bo didn't feel challenged to raise the eighteen-year-old properly and guide her into what he hoped would be a successful, happy future. For the past three years, it had been just the two of them.
There were some days when Sassy truly lived up to her name. At those moments, or when he felt like teasing her, Bo tossed out nicknames that either annoyed her or made her laugh.
"Look, Sasspot, I know you want to go to Faraday for the living nativity event tonight. That's fine, but I don't want you to drive on these slick roads. I can't leave until I finish this tour. I'm sorry, but that's just the way it is. You can either wait for me or stay home."
Sassy walked around Jingle, gave Jangle's neck a few pats, then stood facing him with an expression full of expectation.
When had she gotten so grown up? It seemed like just yesterday he was helping her learn to ride a bicycle and tending to her scraped knees. She'd been all big green eyes and dark brown pigtails back then.
Now, as she stood with that dark brown hair cascading around her in thick waves and mascara emphasizing her long eyelashes, he realized she was no longer a little girl but a lovely young woman.
He had a vision of her catching some handsome young man's eye and the upstart taking her away to live their own version of a happily ever after. The thought of Sassy leaving Tamarack Ranch and him caused acute pain to sear through his chest. He rubbed at the spot over his heart, disturbed and unsettled.
Sassy sighed a second time, pulling his thoughts back to the present. "If you won't let me drive, and you can't take me, may I please go with Cait and her family? Mrs. Caldwell said she doesn't mind if I go with them, but I'll need a ride home. They are heading to Portland tonight to stay with Cait's grandparents for the holiday."
Bo's eyebrows lifted slightly as he gave his scheming sister a leveling stare. He had no doubt riding with her best friend had been her intention all along. And since she knew him so well, she'd led with the thing she knew he wouldn't allow before offering a suggestion of something he would.
Sassy looked like she was ready to squirm under his firm gaze, then she broke into the grin that never failed to soften his heart to a consistency of warm butter. "I promise I will stay with the Caldwell family until you arrive, and I won't get into any trouble. The performance begins at five-thirty. If you hustle, you can get there before it's over. Maybe after the nativity, we can drive around and look at lights."
Resigned to going to Faraday whether he wanted to or not, Bo reached out, pretending he was about to ruffle Sassy's hair.
She ducked and took a step back, shooting daggers at him. Sassy had made it abundantly clear she hated it when he messed up her hair, which she sometimes spent what seemed like hours styling.
"I'll be there as soon as I can," Bo finally agreed. "Wait for me by the camel's pen. If you think about it, maybe you could run by the diner and pick up something for us to eat for dinner tonight. I didn't have time to get anything ready."
"Dinner is taken care of, Bo. I put a roast in the slow cooker this morning. You still forget I'm capable of turning on the oven without burning the house down. Where do you think the cookies for the tours come from? Santa's elves?"
His gaze narrowed. "You are one sarcastic comment away from staying home this evening."
"Sorry," Sassy said, edging away from him. With mischief dancing in her eyes and a saucy smile, she looked anything but repentant.
Bo checked the harness one more time, then walked around to climb into the sleigh he'd had custom-built two years ago. When he'd asked the builder to add cup holders, the man looked at him like he'd lost his mind. Years ago, when his grandparents began the tour company, his grandmother had provided a basket with homemade cookies and hot cocoa for each tour. The clients appreciated having cup holders for their drinks, and it certainly cut down on the number of spilled beverages Bo and his employees had to clean off the seats and floor of the sleighs.
Sassy gave Jangle an affectionate rub on the back, then started to walk to where she'd parked her SUV on the far side of their parking lot.
"Sass, wait a minute," Bo hollered before she reached the vehicle that had once belonged to their grandmother.
She stopped and looked over her shoulder at him as he motioned her to come back. Her steps seemed hesitant, as though she feared he'd changed his mind and would forbid her from going with Cait.
He tugged his wallet from his hip pocket and withdrew two twenty-dollar bills. "Just in case," he said with a grin, handing her the money.
"Thank you!" Sassy gave him an exuberant hug, snatched the money from his hand, then ran over to the SUV. "Don't be late, Bo!"
"I'll do my best," he said, then raised his hand in parting as he turned and looked at the new home of Sleigh Bell Tours.
Last spring, his best friend, Kylan Snow, had talked him into purchasing an old apple-packing warehouse that was just two blocks from the heart of downtown Pinehill. Ky had helped Bo put a new roof and siding on the building and renovate the inside to accommodate the sleigh ride business. Bo had two more sleighs identical to the one he was about to take on a tour as well as two sleighs that held up to eight people, and a big wagon that could accommodate groups up to twenty. He also had half a dozen antique sleighs that he only brought out for special occasions or when they had their busiest days of the year.
Instead of having to haul the sleighs and horses into town every day, he could leave them in the warehouse. The hulking building sat on three acres, which provided plenty of parking. The inside of the renovated warehouse offered room for the sleighs and wagons he used for the business, along with all the harnesses and necessary equipment. The back of the warehouse was now filled with stalls for the horses. The supervisor's office served as an employee break area where his staff could warm up and rest between passengers and where they made gallons of cocoa and kept cookies for the tours in a chest freezer.
Most of the cowboys who worked on his ranch during the spring, summer, and autumn months hung up their spurs during the winter and helped meet the demands of the Sleigh Bell Tours business. He had two hired hands back at the ranch who kept a watchful eye on his herd of registered Simmental cattle and kept things running smoothly during the chaotic winter season.
Ky's bride of not quite a year, Sierra, had talked Bo into setting up a little wooden garden shed in front of the warehouse for a ticket office. He'd ordered the shed pre-built from a building supply store in Portland, and Sierra had helped Sassy paint it deep red with white trim.
With a little help from Sierra, Sassy had also painted a sign with their Sleigh Bell Tours logo, and they'd hung it above the shed. After school and on Saturday afternoons, Sassy worked at the ticket office and, on occasion, drove a sleigh for a tour. She seemed to enjoy helping with the business while earning her own money.
Sassy planned to attend college in Corvallis in the fall. Bo hated to think about it, dreading the day she'd drive away and not come back for weeks or months at a time. He'd miss her more than words could ever express, but he supposed between now and the time she'd pack her things and leave, he needed to figure out a way to tell her how much she meant to him. He didn't know how to picture his future without Sassy in it, but she had dreams and her own life to live that didn't include him.
Shaking his head to dislodge his maudlin thoughts, Bo stepped into the sleigh, pulled on the gloves he'd left on the seat, then was soon on the way to pick up his next tour.
The young couple who'd booked the sleigh ride eagerly greeted him with excited faces. Bo made sure they were settled in the back with their two youngsters before he climbed onto the front seat and gave them a guided tour of Pinehill, a small mountain town near Mount Hood.
Years ago, the town had landed on the idea of opening Pinehill to tourists and encouraging them to stay there while they were skiing the mountain and enjoying the other winter activities available in the area. From there, they began adding festivals to draw more visitors. Before long, Pinehill became a destination location where hotel rooms sold out a year in advance and it was nearly impossible to find an empty seat in a restaurant on a busy festival weekend.
Thankfully, Bo only had to deal with the festival-goers from mid-November through the Winter Fest in January. After that, he retreated to the ranch where he preferred to stay.
Bo thought of the presents he needed to tuck beneath the tree for Sassy after she went to sleep that night. He also had a bag full of goodies to fill the stockings she'd already hung from the hooks set into the thick wood of the fireplace mantel.
Ky and Sierra had invited them to Snow Tree Acres for Christmas dinner tomorrow. Relieved he wouldn't have to try to cook the meal or pretend to enjoy whatever experimental dish Sassy created, Bo looked forward to spending time with his friends and indulging in good food prepared by someone who knew how to cook far better than anything he could create. He had ordered a coconut cream pie from the bakery that Sassy had picked up that morning to contribute to Ky and Sierra's meal.
A glance back at his clients assured Bo they were enjoying the tour as they sipped hot cocoa and ate cookies made from his grandmother's time-honored recipe.
Bo had given the tour so many times he was sure he could recite it in his sleep and sometimes wondered if he did. Regardless, sleigh tours generated enough income in the three months he operated the business to keep the ranch running in the black, even during their toughest years.
If Bo overlooked the way some clients were rude and condescending and focused on those who seemed truly happy and appreciative to be able to go on a sleigh ride, he found joy in his work.
At least most of the time.
Bo felt bad he hadn't been able to spend the day with Sassy, but Christmas Eve was one of the busiest days of their entire season. He'd even pulled two of the vintage sleighs out of storage and sent them out on last-minute requests earlier this afternoon. Ky had driven one, and Sassy had taken the other.
Thankfully, this was the last tour of the day, and the business wouldn't reopen until the twenty-eighth of December. His crew needed a rest, and he wanted to enjoy a few peaceful days with Sassy at the ranch. He thought of Sassy's high energy that sometimes bounced off the walls. A teenager in the house didn't typically mean peace and quiet, but he wouldn't trade time spent with her for anything.
Sassy loved music, as did Bo, but she often had the radio blasting loud enough he could hear it all the way out at the barn. He worried about her causing permanent damage to her hearing, but he had bigger battles to wage with his sister, and the radio wasn't worth engaging in a war he wasn't certain he could win.
Bo gave another glance to the back of the sleigh, pleased to see the family of four enjoying their outing and looking with interest as he talked about some of the town's older homes. He turned onto a side street that would take them back to the hotel where the couple was staying. When he reached the hotel, he stopped as close to the sidewalk as he could, then hopped out and offered his hand to the young mother as her two rambunctious little boys jumped out of the sleigh into a pile of snow, giggling as they rolled off the far side of it while their father chased after them.
"Merry Christmas!" Bo offered in a cheerful tone, waving to the couple before he returned to his seat on the sleigh and rushed to the tour barn. The rest of his employees had already put away their equipment, taken care of the horses, and departed for the holiday.
Speed gained from years of practice made it possible for him to remove the harnesses, settle the horses in their stalls, clean the sleigh, and get out the door in record time. Since the Faraday nativity was held outside, he didn't see any need to waste time in going home to shower and change.
He glanced at his watch as he checked the horses one last time. If he sped a little, he'd make it to Faraday before the event started. Bo grabbed the money bag with the day's cash payments and receipts, made sure everything was turned off and secure, then locked up. As he jogged across the parking lot to his pickup, he slipped on a patch of ice and waggled his arms at his sides to keep from face-planting on the slick pavement. If Sassy had been there, she'd have laughed at him, then made him laugh, until they both fell on their backsides.
He grinned as he slid behind the wheel of his pickup, not bothering to warm it up before he roared out onto the street and headed out of town. When he reached the main highway, he turned west toward Portland. Faraday wasn't all that far from the summit of the mountain.
Night had settled and stars glistened overhead as he found a place to park several blocks away from where the nativity took place in the center of town.
Bo couldn't remember when Faraday had started holding the event, but it was after one of the residents acquired a Bactrian camel. He remembered coming a few times with Sassy and their grandparents, but in the past few years, after losing Gramps and Gramma, neither one of them had felt like coming to the nativity, let alone putting much effort into the holidays.
Sassy had made it clear way back in September that she expected things to be different this year. Bo wondered if it was because this would be her last year at home and her last year in high school. Neither of them could predict what next year would bring, or if they'd even be together for Christmas.
While Bo hoped his little sister would always come home for the holidays, he knew he had to be open to the idea that she might make other plans.
Thoughts of that made him scowl as he made his way through the crowds all headed for the living nativity area. A makeshift pen held the famed camel, a donkey, a sheep with a curly horn, a big red cow with a calf at her side, and a dove perched on top of a fence post, as though it kept watch over the animals. A towering pine tree aglow with Christmas lights added to the festive atmosphere.
Bo scanned the faces of those gathered near the pen and caught sight of his sister with her friend as they reached through the fence. Sassy rubbed the neck of the donkey. She'd always been drawn to animals, and he'd often wondered if she'd choose to become a vet. Ultimately, she'd decided to become a wildlife biologist. She'd be great at it, and Bo hoped the profession would bring her fulfillment and happiness. He could envision her out in the woods studying a herd of elk or documenting the behavior of raccoons.
He grinned as Sassy noticed his approach and waved at him, appearing pleased he'd made it on time.
"I should have known you'd have your fingers stuck through the fence, petting the animals," Bo said in a teasing tone.
Sassy shrugged and continued lavishing the donkey with attention.
"Hi, Mr. Jensen," Cait Caldwell said, tossing her hair as she gave him an enamored smile.
Bo was aware of her crush on him and went out of his way to avoid the girl whenever possible. That proved to be difficult considering she and Sassy had been best friends since they were in kindergarten and every few weeks she spent the weekend with Sassy at the ranch.
"It was nice of your family to give Sassypants a ride," Bo said, studying the donkey. "Thank you."
Sassy glowered at him while Cait offered a high-pitched giggle that made the donkey bray and Bo battle the urge to cringe.
Bo left the two girls and went to speak to Cait's parents, thanking them for letting Sassy tag along. He'd barely finished greeting them when the announcement was made the nativity was about to begin.
The camel grunted loudly, like she was directing the rest of the animals in what they should do. The cow mooed and swished her tail, then nudged her calf forward. A dog that looked like part Lab and part mutt with huge feet and floppy ears ducked beneath the fence and went to stand next to the donkey. The dove flew down and perched on the back of the sheep. Then the human participants appeared, and the performance began.
Sassy moved next to Bo and leaned against his side. He wrapped an arm around her shoulders and pulled her closer to him, sharing his warmth. Under other circumstances, he might have given her a hard time for dressing for fashion instead of practicality, but it was Christmas Eve, and he wanted her to have a great evening.
The performance was entertaining, made more so by the antics of the camel and donkey throughout the play. The crowd erupted into cheers at the end, then began to immediately disperse. Sassy gave Cait a big hug and waved as the Caldwell family hurried off toward their van.
"Well, Sassy Lassie, what's next on your agenda?" Bo asked as the two of them watched a pretty woman with dark hair and a red coat lead away the donkey. The tall, burly man with her slapped his hand against his thigh and the dog bounded toward them. A cowboy and a woman with flaming red hair loaded the calf and cow into a stock trailer. The sheep sauntered into a trailer parked next to it.
The camel was, of course, the star attraction of the night. She remained in the fenced area as people rushed forward to take photographs.
"Can I take a photo with Lolly?" Sassy asked as they watched the camel lick two little girls across their faces, making them splutter and cry.
"The camel?" Bo asked, wondering if Sassy was prepared to have the camel slobber all over her. Then again, if Lolly did, Sassy wouldn't care.
"Yes. Please, Bo?"
"Sure." He walked with her over to the dwindling line of people waiting to take selfies with the camel. It didn't take long until it was Sassy's turn to pose with the camel.
"Come on, Bo. You get in the photo, too." Sassy motioned for him to join her as she stood close to the camel.
Bo had no interest in the camel, but he would have done just about anything Sassy requested if it meant she enjoyed herself. He moved behind his sister, letting her stand next to the camel. With his arm held out in front of him, he snapped a few photos. Sassy took his phone and glanced at them before she took one more photo with her kissing the camel's long face.
"Make sure you brush your teeth later," Bo remarked dryly as Sassy gave the camel a friendly pat on her neck before they stepped out of the way so others could take photos with her.
"You think you are hilarious, brother dear. You're lucky you have me around to keep the facts straight." Sassy wrapped her hands around his arm and tugged him toward a few booths that had been set up. "Can we get something hot to drink? I'm freezing."
It was on the tip of his tongue to comment that she should have dressed in clothes meant for subzero temperatures, not the fashionable duds she wore when she went to Portland, but he kept his opinions to himself. He followed his sister over to a booth selling hot beverages and purchased two cups of steaming apple cider.
"Anything else you want to see before we head out?" Bo asked, then took a careful sip of the hot drink.
"Nope. I'm ready to go home, as long as we can look at some lights on the way." Sassy wrapped her arm around Bo's again as they meandered away from the booth.
"Great. I'm more than ready to get back to the ranch and settle down by the fire. I'm looking forward to that roast you said you left in the slow cooker. Did you add carrots and potatoes?" Bo glanced down at his sister, but she was watching two boys flirt with a couple of girls who looked to be her age. Oh, to be young and unfettered by the cares of adult responsibilities.
"You know them?" Bo asked when Sassy looked like she was ready to slap someone, although he wasn't sure if it was the boys or the girls or all of them.
"I …" Sassy released his arm and jumped back as a woman tripped and fell against Bo. He caught the woman before she landed on the frozen ground, but his cider splashed all over the front of her white coat. From the look of it, the coat cost as much as a year of Sassy's college tuition.
"Oh, I'm so sorry," the woman said, lifting her face to Bo as she worked to regain her balance on the lumpy, packed snow.
He sucked in a breath, certain he'd never seen a woman lovelier than the one looking up at him with wide eyes. Blonde hair cascaded over her shoulders from beneath a white beret perched at a jaunty angle on her head. She smelled of money, reeked of it, but even that wasn't enough to overpower her feminine fragrance that made him think of juniper berries and fresh breezes.
"I am such an idiot. My sister told me I'd regret wearing these boots. As usual, she's right." The woman held onto Bo's arm as she balanced on one foot and looked at the broken heel on her other boot.
"They are super cute boots, even if they aren't very practical for walking in the snow," Sassy said, offering the woman a sympathetic smile.
Bo wanted to offer a witty remark, to say something intelligent or charming. Only he felt like his tongue had been glued to the roof of his mouth and his thoughts had drizzled out his ears the moment his hands had grabbed the woman's arms to hold her upright.
"Thank you." The woman smiled at Sassy. "I can see you have great taste." Her attention slowly shifted from his sister to Bo.
"Really? Thanks so much," Sassy said, brushing a hand down the front of the coat she'd purchased on a Black Friday sale. Of course, she'd had to order it online because Bo absolutely refused to take her to Portland during the day of frenzied shopping and absurd crowds, but Sassy was proud of her coat just the same.
"What a mess," the woman said, brushing at her coat with the napkin Sassy handed to her. "I'm not usually such a klutz." She gave up dabbing at the cider soaking into the white cashmere and looked to Bo again. "Thank you for catching me before I fell. I'm Juniper, by the way. Juniper Haynes."
"Juniper," Bo mumbled, finally managing to gain a miniscule amount of control over his tongue. However, his heart pounded so fast and loud, it echoed like a bongo drum in his head.
"That's an awesome name," Sassy said, with the enthusiasm summoned by a teenager impressed by someone older and more worldly. "I'm Sassy, and this is Bo Jensen."
Juniper's smile widened as she looked up at him. Even with her high-heeled boots, she barely came up to his chest. Then again, at six-four, he tended to tower over a lot of people.
"Sassy and Bo. It's so nice to meet you. Thank you, again, for catching me. Happy Christmas Eve." Juniper turned away and took a lopsided step, but her foot slid on a patch of hidden ice. She would have fallen if Bo hadn't caught her a second time, his arms looping beneath hers from the back. She tilted her face upward and offered him a look of gratitude.
Something that felt like an electrical current trailed up his arms, threatening to short-circuit what few working brain cells he had left.
Words.
He needed words.
To speak—to say anything—but nothing seemed to be able to work its way from his overloaded brain to his mouth. The sharp elbow Sassy jabbed into his side didn't help any more than her questioning glare to rattle something loose.
Bo stared at the woman, fascinated.
Juniper.
What an intriguing name for an entirely captivating woman.
"Juniper! She warned you about those boots." A guy about the same age as Bo strode toward them. He had a mop of dark hair, a winning smile, and muscles to spare. When he reached them, he gave Juniper an admonishing look, then picked her up as though she weighed no more than a feather. He grinned at Bo. "Thanks for catching her. Merry Christmas!"
Bo nodded once, then watched as the man rushed off toward the pen where the camel waited.
"Real smooth, Bo. Real smooth," Sassy admonished, then yanked on his arm, pulling him forward. "Come on, I'm freezing and starving."
Bo gave one more glance toward Juniper as she looked over the man's shoulder at him, then hurried ahead to where he'd parked the pickup.
Neither he nor Sassy spoke as they made their way out of Faraday, but as soon as they hit the highway, Sassy cranked the volume up on her cell phone as music filled the vehicle.
When he realized the song she'd chosen was "Smooth Operator," he felt like grabbing her phone and tossing it out the window.
Fully aware he'd embarrassed himself and acted like a dunce in front of the beautiful woman who appeared to already be taken, he didn't need his kid sister pointing it out to him.
Bo growled at her, and she giggled. Within seconds, they were both laughing. Sassy muted the music on her phone and turned on the radio in the pickup. As Christmas tunes blasted into the cab, the two of them sang along.
While he feigned Christmas cheer, Bo tried to understand how one simple encounter with a woman he'd likely never see again could leave him so thoroughly undone.