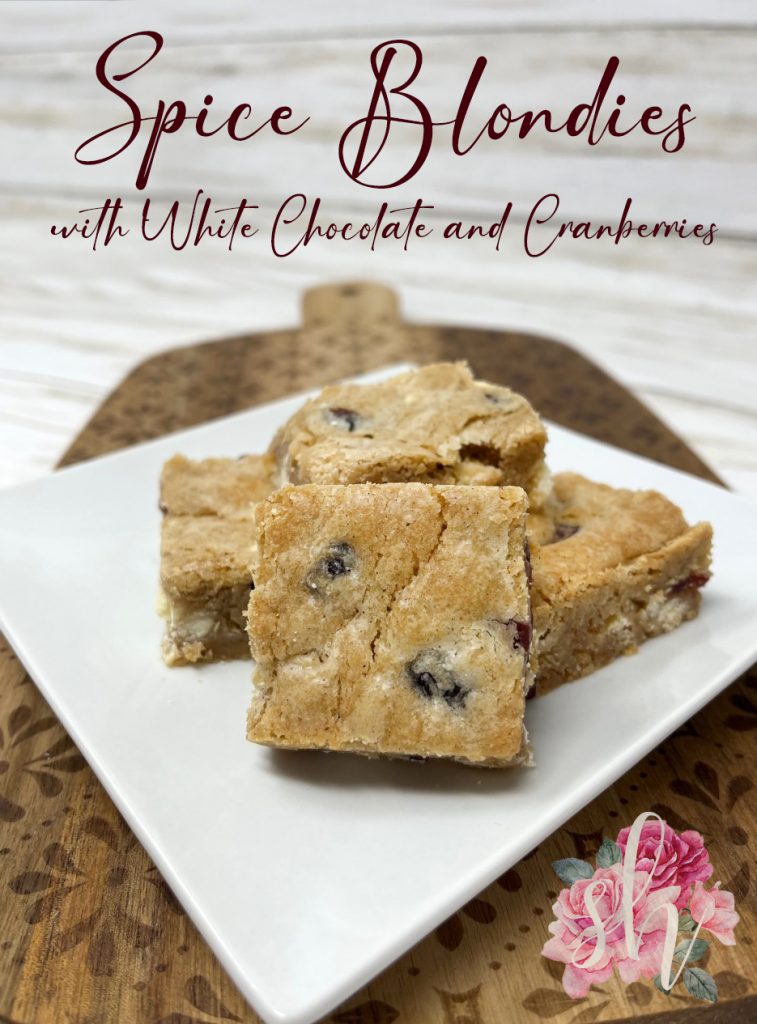 The other day I needed a few desserts to take to a fun Friendsgiving celebration (which was so fun, by the way!).
I decided to mix a few recipes together and see how it turned out.
It turned out to be quite tasty!
The spice blondies, start with a cake mix and thanks to some add ins are full of flavor. If you like the texture of a soft, chewy blondie, then these are for you!
INGREDIENTS:
1 box spice cake mix
3/4 cup butter, softened
2 eggs
1/3 packed brown sugar
3 tablespoons cream
1 teaspoon vanilla
1 cup dried cranberries
1 cup white chocolate chips (or chunks)
1 cup chopped pecans (optional)
DIRECTIONS:
Preheat oven to 350 degrees. Spray a 11×17 baking pan with nonstick spray. Set aside.
Cream butter and sugar, blend in eggs, stir in cake mix then cream and vanilla. If desired, you can add extra spice with a dash of cinnamon and nutmeg.
When batter is mixed, stir in cranberries and white chocolate (if desired, you can add pecans. I left them out because CC is not a pecan fan).
Spread into baking pan and bake for about 30 minutes, until center is set but edges don't look overbrown. Allow to cool, then cut into bars and serve. You could drizzle cream cheese frosting over the top, but these bars are plenty sweet all on their own.
Enjoy!