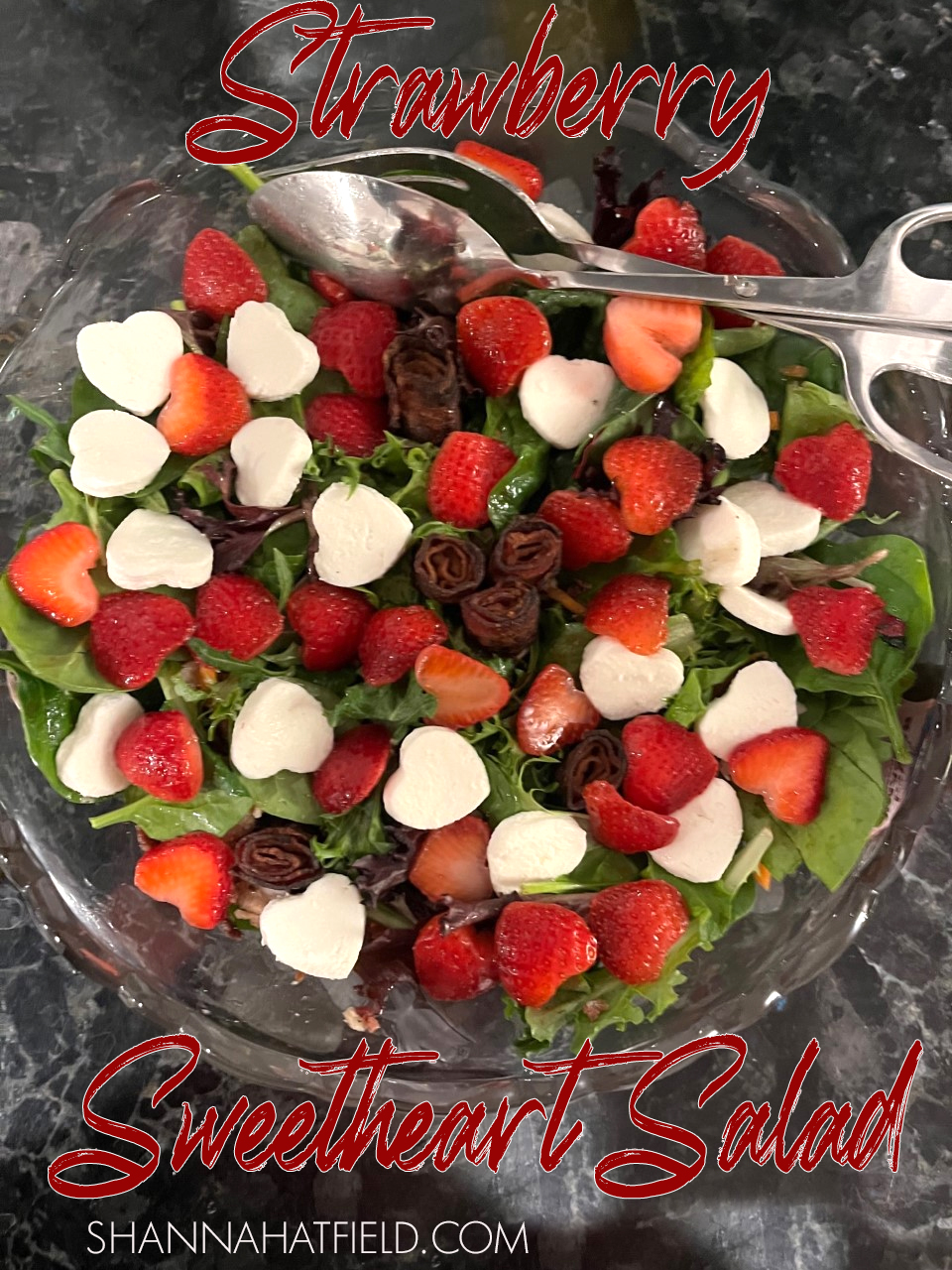 This fun and festive salad is perfect to serve during "Heart Month," or anytime you want to add a little fun to your table. It's flavorful, colorful, and can be used as a side or a main dish.
Although I used a heart-shaped cookie cutter to cut the strawberries and cheese, you could use a daisy for spring, or a leaf for autumn.
INGREDIENTS:
4 cups baby lettuce
1 pound of fresh strawberries
8 ounces of fresh mozzarella (I like BelGioioso)
1 package of fully cooked bacon (should be in the grocer's case near the regular bacon)
1/2 cup bacon bits
1 cup cooked and cubed chicken
1/2 cup roasted pecans
vinaigrette dressing (I used Kraft Aged Balsamic Vinaigrette)
DIRECTIONS:
Preheat the oven to 425.
Starting with the skinniest end of the bacon, roll strips to form a rose bud. Keep together by skewering the base of the rose with a toothpick. Place on a foil-lined baking sheet. You should get 10-12 roses from one package of the bacon. (I use fully cooked because when the bacon is rolled up, it's hard to get the center of it cooked thoroughly without burning the outside). Crisp the roses in the oven for about 8-10 minutes. If you like crispier bacon, leave in a few minutes longer. Remove from oven and cool.
Use a small cookie cutter to make the strawberry and mozzarella shapes. If using mozzarella that hasn't been sliced, cut pieces about 1/4 inch thick. For the strawberries, I cut each berry into four slices and cut the shapes from the two end pieces (reserving the inside pieces for a dessert topping!).
Add lettuce to serving bowl along with pecans (you can use whole, halved, or chopped pecans), chicken, and bacon bits. Top with strawberries, mozzarella and bacon roses. Drizzle with dressing and serve!