Last month, we met my cousin and his wife in Hood River to take the Fruit Loop Tour.
The tour has nothing to do with fruity-flavored cereal. It's a 35-mile loop of orchards and berries in a scenic setting.
The website for the Hood River Fruit Loop Tour states:
A unique rural farm experience awaits you in the beautiful Hood River Valley, where you will encounter 28 on-the-farm fruit stands, wineries, breweries, cideries, and fields of flowers. The Hood River Valley has a rich agricultural heritage, beginning with the planting of the first fruit trees in 1855, resulting in 14,500 acres of pears, apples, and cherries that cover the valley today. Wander down the 35 miles of scenic country roads on your self-guided tour and create great adventures with family and friends, while exploring the abundance of farm products grown in the valley. If you are traveling in a bus or large RV, please call the individual stands for information on accommodations.
Fruit Loop members invite you to enjoy a self-guided tour of our Fruit Loop Stands along a scenic 35-mile loop in the Hood River Valley.
We had no idea what to expect as we began the adventure. We knew we wouldn't be able to visit all the stops, so we choose those that sounded of the most interest to us. We definitely wanted to find good peaches, and maybe some pears.
Our first stop was Pearl's Place, where they had vintage-label canned fruit along with a variety of fresh peaches, and a few early season apples. We hesitated to buy anything, uncertain what we might find on the rest of the tour, but I did pick up a can of fruit for Dad.
Stop number two took us to The Gorge White House. They had the most gorgeous flowers you could go out and cut.
We're talking acres and acres of flowers.
I loved the magenta hue of this glorious gladiolus. I should have asked the name of it, because I would love to plant some bulbs!
The variety of flowers was awesome.
And the beautiful day with a brilliant blue sky made a perfect backdrop for snapping photos, especially of sunflowers.
We made many stops throughout the day, but one of our favorites were Packer Orchards. They had a bakery with the most delicious cookies. If we'd known how good they were, I think we all would have bought several instead of only one each. They also had yummy apple cider doughnuts and all kinds of fun things in their store. We ended up buying the juiciest, sweetest peaches here. I wish I'd bought more than I did. They were so, so good!
After lunch at a great barbecue place and wandering in a few fun shops in the little town of Parkdale, we went to Draper Girls' Country Farm. In fact, we ended up there twice. The first time we bought a variety of goodies in their shop. The second we picked up pears and cherries.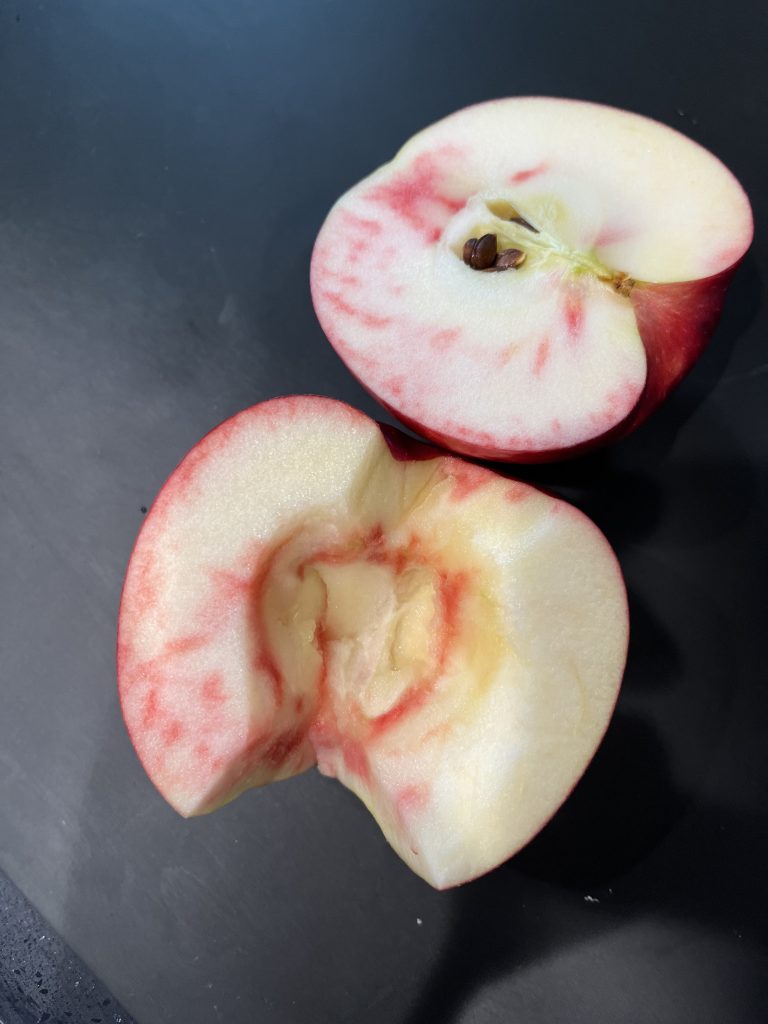 At several of our stops, we bought random pieces of intriguing fruit (for me, mostly apples). I came home with a Tokyo Rose apple, and we all bought strawberry apples. I was fascinated with the coloring inside the strawberry apples. They didn't taste like strawberries to me, but it was fun to give it a try anyway!
Before we ended our day on the Fruit Loop Tour, we returned to Pearl's Place.
We bought a few apples, more peaches, and got the tastiest and most refreshing apple cider slushies! Boy, were the good and gave one of us such a brain freeze, eyes were watering. They also had a cooler with a fun selection of vintage labeled milk included "Cream line." None of us knew what that was, so I bought a little bottle and we sampled it at breakfast the next morning. It was creamy and delicious. For those who prefer a more technical description: "Creamline milk is non-homogenized milk that has a layer of cream that separates from the milk after it has been processed and bottled. It is the most natural form of milk that can be purchased on a store shelf."
All in all, it was a fun, memorable day. We laughed, we ate, we laughed some more. I'm so glad we could do this trip with Brad and Brenda. Captain Cavedweller and I are already thinking about the peaches we'll get next summer.
If you are ever in the area during the summer months, I highly recommending doing the Hood River Fruit Loop Tour. Your taste buds will thank you!