In celebration of Women's History month, each Monday I'm sharing about a woman in history who left her mark on the world around her.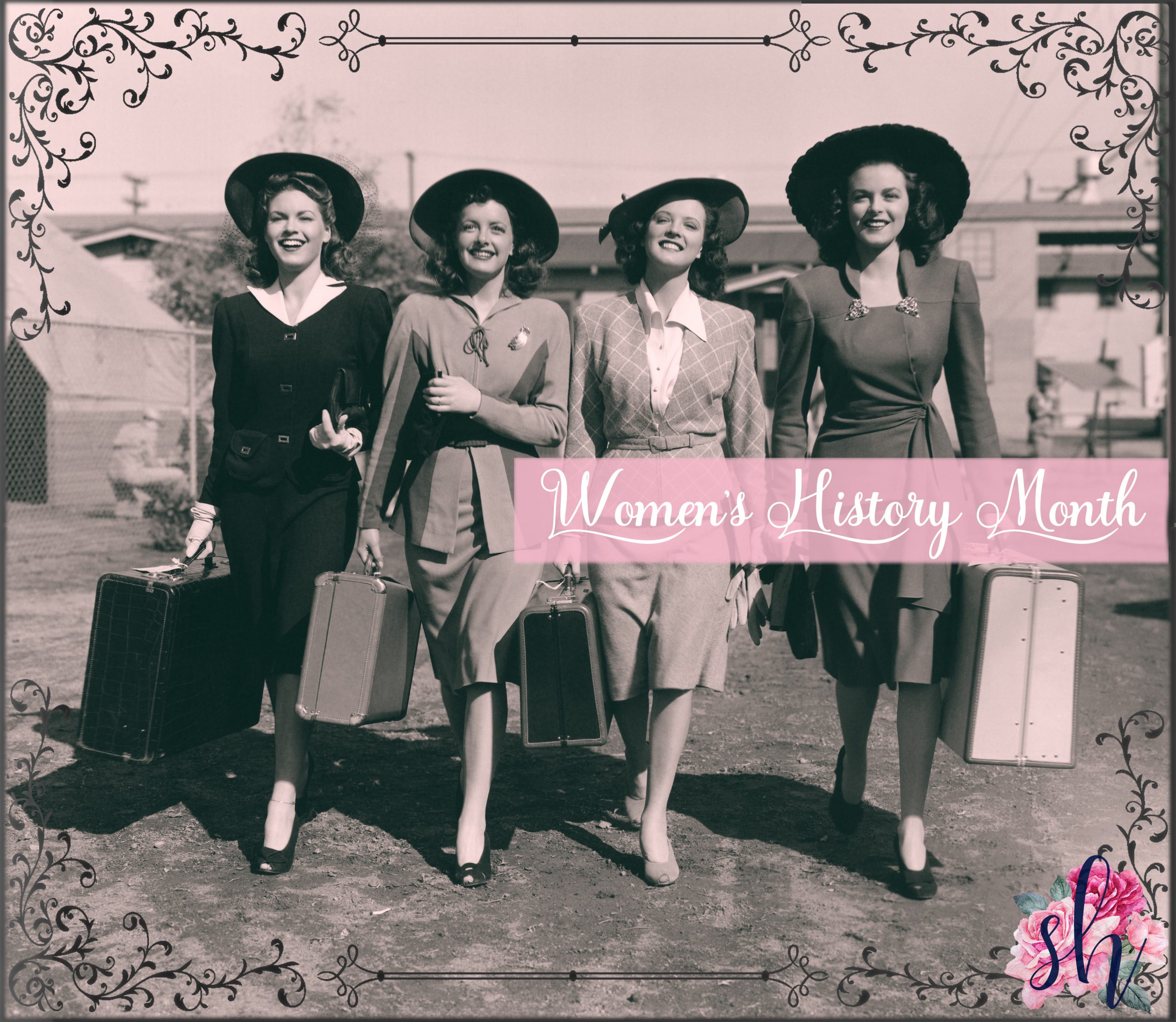 This week's spotlight is on a woman most everyone has heard of: Annie Oakley.
When I was invited to participate in the Pink Pistol Sisterhood series, I loved the idea behind it – that Annie Oakley gifted a beautiful pink-handled pistol to the heroine of the first story, beginning a journey that would travel through each story.
I knew Annie was an amazing shot and traveled with Buffalo Bill's Wild West show. But she was so much more than that.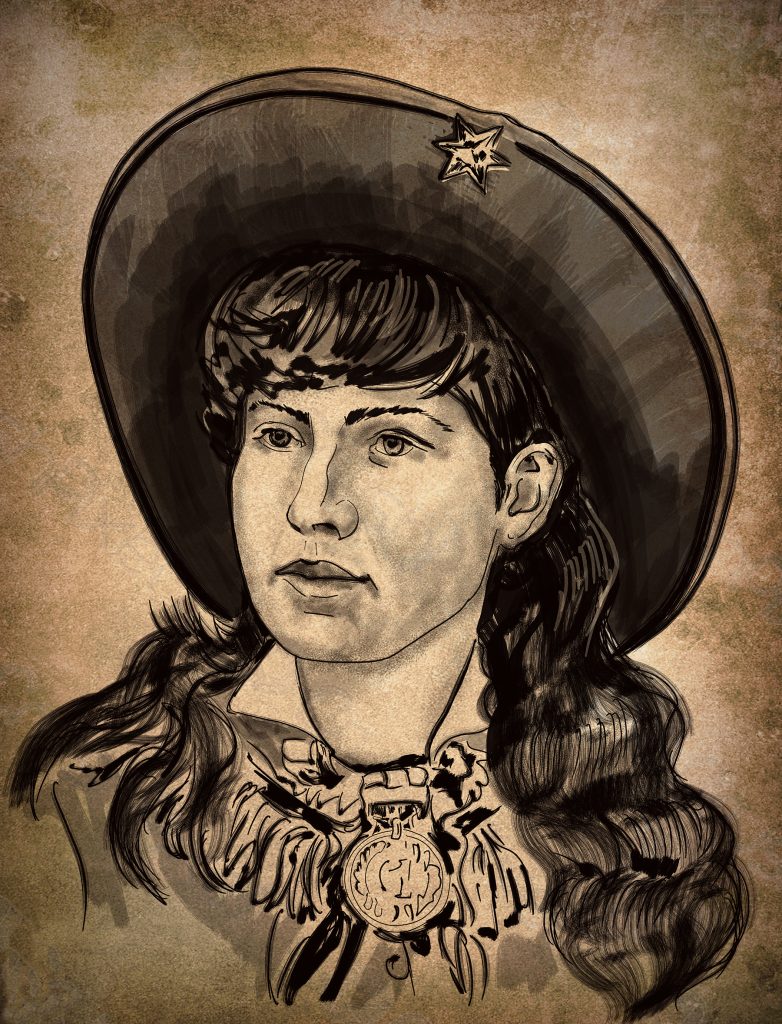 One of the amazing gals in our series put together a fabulous list of facts about Annie's life:
August 13, 1860: Annie Oakley (born Phoebe Ann Mosey) is born in Darke County, Ohio, near the border of Ohio/Indiana
Spring 1870: Annie was bound out to a local family to care for their baby. She was made a prisoner and kept against her will, beaten, and spent two years there before she made her escape. Forever afterward, she referred to them as "the wolves" and never revealed their names.
Spring 1872: Annie runs away from "the wolves" and lives with the Edington family.
At 15 (1875): Annie returns to live with her mother.  
At 15 (1875): Annie pays off her mother's mortgage on her farm by trapping and shooting game, and selling it to local restaurants and hotels in northern Ohio.
At 15 (1875): Annie wins a shooting contest against experienced marksman Frank E. Butler.
At 16 (1876):  Annie marries Frank Butler.
At 24 (1884): Sitting Bull symbolically adopts Annie as his daughter, naming her "Little Sure Shot"—a title that Annie went on to use throughout her career.
At 25 (1885): Annie and Frank join Buffalo Bill's Wild West show.
At 29 (1889): Performs with the Buffalo Bill show at the Paris Exposition of 1889, earning more than any other performer in the show other than Buffalo Bill himself.  Also performed in many shows on the side for extra income.
From 1892-1904, Oakley and Butler made their home in Nutley, New Jersey.
At 34 (1894): Annie and Butler performed in Thomas Edison's Kinetoscope film "Little Sure Shot" of the "Wild West", an exhibition of rifle shooting at stationary and moving objects which was filmed November 1, 1894, in Edison's Black Maria studio by Wm. Heise. It lasted 21 seconds at 30 frames and 39 feet.
Annie promoted the service of women in combat operations for the U.S. armed forces. She wrote a letter to President William McKinley on April 5, 1898, "offering the government the services of a company of 50 'lady sharpshooters' who would provide their own arms and ammunition should the U.S. go to war with Spain."
At 41 (1901): Annie was badly injured in a train accident but recovered after temporary paralysis and five spinal operations. 
At 42 (1902): Annie left the Buffalo Bill show and began a less taxing acting career in a stage play written especially for her, The Western Girl. She played the role of Nancy Berry who used a pistol, a rifle, and rope to outsmart a group of outlaws.
Throughout her career, it is believed that Annie taught more than 15,000 women how to use a gun. She believed strongly that it was crucial for women to learn how to use a gun, as not only a form of physical and mental exercise, but also to defend themselves. She said: "I would like to see every woman know how to handle guns, as naturally as they know how to handle babies."
At 44 (1904): Newspaper magnate William Randolph Hearst published a false story about Annie having been arrested for stealing to support a cocaine habit. The woman actually arrested was a burlesque performer who told reporters her name was Annie Oakley. Hearst tried to avoid paying anticipated court judgments of $20,000 (equivalent to $600,000 in 2021) by sending an investigator to Darke County, Ohio to dig up reputation smearing gossip about Annie, but the investigator found nothing.  Annie spent the next six years winning all but one of her 55 libel lawsuits.
At 53 (1913):  The Butlers built a brick bungalow-style home in Cambridge, Maryland.
At 57 (1917):  The Butlers moved to North Carolina and returned to public life.
At 62 (1922):  The Butlers were in a car accident that forced Annie to wear a steel brace on her right leg. She eventually performed again after more than a year of recovery and she set records in 1924.
At 65 (1925):  Annie's health declined.
At 66 (1926) Annie died of pernicious anemia in Greenville, Ohio, at the age of 66 on November 3, 1926. She was cremated and her ashes buried at Brock Cemetery near Greenville.
Butler was so grieved by Annie's death that he stopped eating and died 18 days later in Michigan; he was buried next to her ashes. One source reports that Butler's death certificate gave "senility" as the cause of death.
After her death, it was discovered that her entire fortune had been spent on her family and her charities.
Credit to Wikipedia article: Annie Oakley
Additional Notes:  The Autobiography of Annie Oakley, is a collection of fifteen articles written by Annie and published in newspapers across the United States in 1925-26.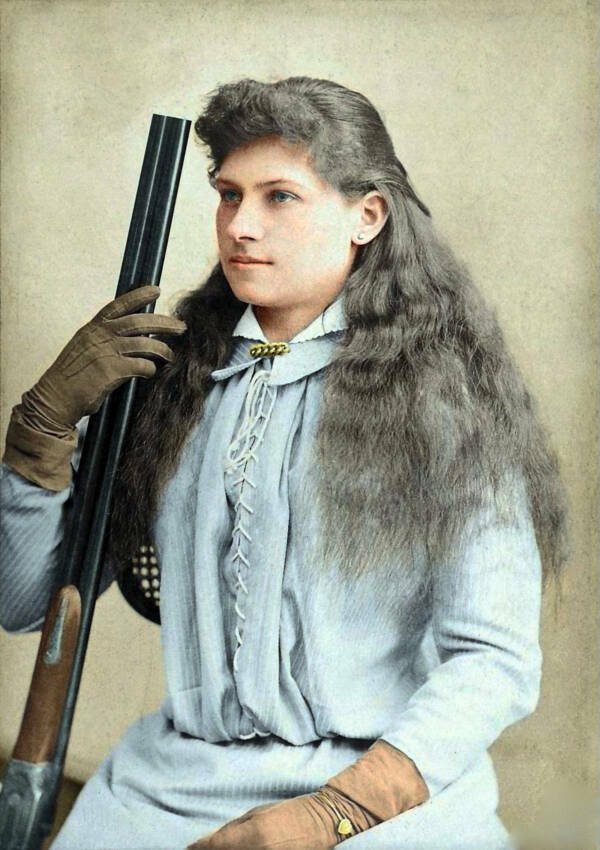 Annie was a small woman, standing just at five-feet, and despite her excellent marksmanship, was quite a fashionable, feminine woman. During her lifetime, she taught more than 15,000 women how to shoot. Talk about empowering women!
I admire Annie so much for so many reasons.
It's an honor to write about a heroine who looks up to her as a hero and an inspiration.
You can read more about how Annie influences Rena in Love on Target.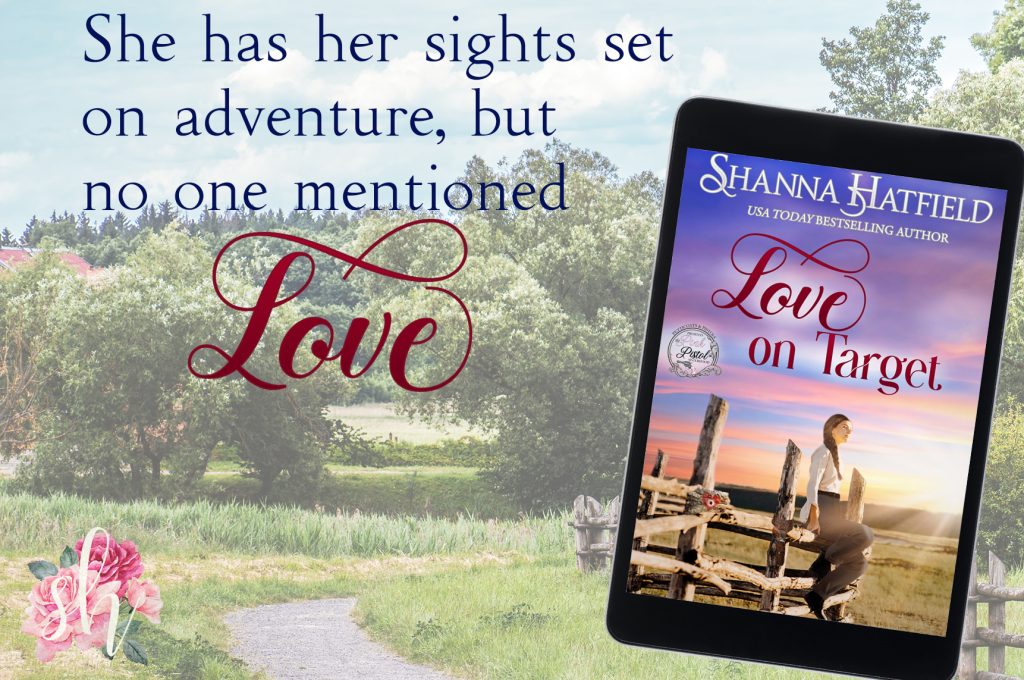 Will romance hit its mark when true love is the target?
Desperate for a fresh start, Rena Burke journeys from Texas to Oregon with only her father's pistol and a plodding old mule for company. She takes a job working with explosives at a mine, spends her free time emulating her hero Annie Oakley, and secretly longs to be loved.
Saddle maker Josh Gatlin has one purpose in life and that is his daughter. Gabi is his joy and the sunshine in his days. Then he meets a trouser-wearing woman living life on her own terms. Rena is nothing like his perception of what he wants in a wife and mother for his child, but she might just prove to be everything he needs.
When tragedy strikes, will the two of them be able to release past wounds and embrace the possibilities tomorrow may bring? Find out in this sweet historical romance full of hope, humor, and love.